Recently, I was out with my small dog, Buttons, and I had her in a dress – yes, I like to dress her up often – and someone walked up to me and started asking me if I dress her up in small dog skirts as well. This person had stated that they didn't know where to go for really cute dog clothing, and that they had a bunch of shirts but liked the dress look on Buttons.
I let her know that, yes, of course I dress her up in skirts! Because there are a lot of small dog shirts out there, she has to have a skirt to go with them! I dress little Buttons up in everything I can get my hands on, and skirts are no different.
There are a lot of dog skirts/styles out there to choose from, but what are some good ones to choose? Not all are created equally.
The Material.
Just like with other dog clothing, the material of the skirt will have a huge impact on how it fits your dog. Since some dog clothing doesn't stretch too well, it can actually impede how well your dog is able to move and run. Let's face it, dogs are still dogs regardless of what we dress them up in, and the material will impact whether your dog is able to run and play.
All dogs like to be able to run around, even if we're toting them around in a purse, a dog carrier, etc. As soon as you put your little dog down to use the bathroom, they may just get a wild hair and decide that they want to run circles to get some energy out.
Stretchy material is some of the best material to look for in clothing. Not only will this help you with dressing them, especially if they're hyper when you start trying to get ready with them, but it also will allow them to move freely and be comfortable.
So, now with the material aspect done, what are some styles to choose from?
The Jean Skirt.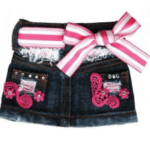 Okay, so this is my new fave! I'll admit, I don't have one yet, but look how cute it is!! I haven't seen these until recently, but now that I know they exist, I just have to get one for Buttons!   Especially loving the adornments on the pockets. I'm eyeballing this one that looks almost like musical notes on the back pockets and the fact that it's pink and will match her collar she has on right now.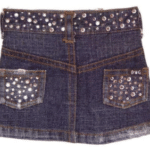 I really like the ones with the belts attached to them and think that these would look absolutely adorable on any dog. If you have some colored barrettes from my article posted here, then grab one of the skirts that will match the colors you chose with the hair pretties.
Imagine, a cute shirt, jean skirt and a couple of barrettes! Too cute!
The Francine Skirt.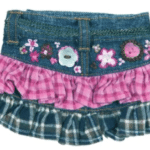 Similar to the jean skirt, this one has ruffles on it so it's a cross between the Tutu and the Jean skirt. How cute!  I could see this one as well on both my female dogs.  Especially Buttons since she has quite a few Tutu skirts already in her wardrobe, so this would be a cross between the two.
Also, I love that it comes with a small brass belt and would just be perfect as an accessory! I mean, look how cute the Francine looks on this dog! Yes please!
Plaid Skirts.

The plaid skirt is new for me as well today. In searching for a new skirt for my dogs, I came across this one, and I find it adorable. The beige almost looks like a Burberry which is perfect if you happen to have this bag in your closet. Pull this out, put the skirt on your pup and you now have a match for the day.
I could just imagine taking my dogs out, matching my hand bag while we walk around downtown and enjoy the sun. Love this skirt.
This particular skirt is limited in size options, so be sure to check out the sizes so you can get one that fits your pup. Most skirts come in all sizes, however, with this material, the sizes are limited in both Red and Beige colors.
The Tutu Skirt – A Classic.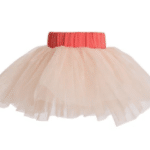 As an avid lover of putting Buttons into clothing, of course I have a plethora of Tutu dresses and skirts to choose from. Yes, she has lots of skirts too, but mainly the Tutu's since I hadn't seen the Jean, the Francine or the Plaid until recently.
This Tutu skirt is a classic and this style of skirt is also very popular in most pet stores, so typically easy to find no matter where you shop.
The Tutu skirts come in many colors, sizes, lengths, etc. The Tutu will also come on dresses more often than not in pet stores for dogs, so Buttons has a few of them.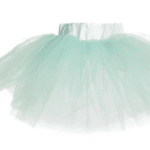 I did find a turquoise one I'm looking at buying since that's not a color Buttons has a lot of. She has a petticoat in this color, but no dresses or skirts and it would be a good addition. I just bought some blue barrettes, so it would match perfectly.
As you can see, there are a lot of options for dog skirts, and one of my favorite sites to shop from for my dogs is Bitch New York, as my avid readers already know. I just love their selection and the cuteness rating is just too much.
Choosing the right clothing for your dog is easy when you have so many options. Not only that, save 15% today! Simply click here and it will take you right to the skirt selection for your dogs and you can have these super cute skirts for your furry babe.
Which skirt did you choose for your dog? How does it look? I'd love to see pictures of your best friend posted up!
Please follow and like us: