Product: Bestia Maximus Genuine Leather Collar
Price: $79.90 USD on Amazon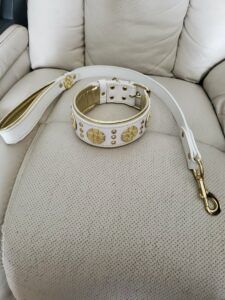 Sizes Available: All sizes for any dog
Rating: 5 out of 5 stars
How did I find the Bestia Maximus Genuine Leather Collar and why did I choose this one?
Looking for a solid collar for my pocket bully, I searched high and low for a collar that would allow me to walk her with ease.   I needed one that took her strength and girth into consideration.   Her initial collars that were bought from a local pet store were very slim collars that work well for my smaller dogs.  However, with her being over 50 lbs, she would pull so hard that she would start to choke herself.
Because of the thin collars, she would start to get bloodshot eyes and a red rash around her neck any time she would pull excessively on her collar.  I ended up purchasing a leash trainer as well, but I still found that her collar was just too thin for her neck size, and it looked very small in comparison to her.
So, after searching, reading every review possible on a ton of websites, I found that this particular collar, the Bestia Maximus Genuine Leather Collar had the best reviews for it's size and class.
My Personal Experience With This Collar After 3 Months.
I bought this collar and a leash to go with it just a little over 3 months ago.  When it came in, I was extremely pleased that it looked just like it did in the picture.  I decided on the white with gold accents since Atlas has white in her coat sporadically.  I wanted to accent her colors directly, without having the collar seem overdone.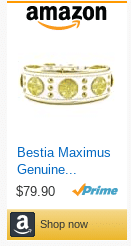 Amazon described it's materials as being made with genuine leather with padding on the inside of the collar to protect her skin.  When it came in, it delivered on it's promise.  It is genuine leather.  The padding inside the collar protects her neck, skin and fur from getting a rash or rubbing the fur off.   The padding almost seemed gaudy in the pictures, but when it came in it wasn't at all, it's quite subtle.
Atlas is still Atlas and of course.  She pulls on this collar and leash, but with her extreme strength, it's held up very well over the last few months.  No tears, no weird lines forming, so discolorations, the emblems are still the same as they day it came in; I love everything about this collar.
How Does Atlas Seem To Like Her New Collar?
When I initially put the collar on her, she didn't really scratch at it too much, she was only a little hesitant about it because of how thick it is and non-pliable.  It's a very thick leather, so it's hard to bend it to put the holed end through the buckle part.
When I initially ordered this collar for her, I added an extra inch to her neck size to allow for room to grow into it, but that was a mistake.  Don't add any inches.  If you measure 18" like I did, then the smallest part of the collar, the last hole, will be at 18″ and it will run to about 22″.  Technically, her neck is only 17″, so I'm able to slip it over her head and not have to undue the buckle every time.  The problem with this, is she can back up and slip her head right out of it and when she was in heat a week ago, she took off through the neighborhood, and I of course had to chase her down.
So, follow the guidelines for the measurements exactly to avoid my mistake.  It will help when the collar comes in true to size.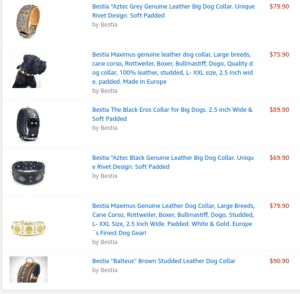 My Overall Rating On This Line Of Collars.
Overall, I love this brand of collars for my dogs.  It's more expensive then any collar I've bought for my dogs in the past, but well worth the cost because of the quality.  I see this collar as lasting years for Atlas even through all of her playfulness and strength.
Would I recommend the Bestia Maximus Leather Collar to any of my friends or family?  In a heartbeat!
If you have this brand already, leave me comments on how it works for you!  What do you like about it, not like?  Or, if you have questions, let me know and I'll help as best as I can!  Thanks for reading my review!
Update – here I am over a year later and this collar and leash are still awesome!  I'm actually looking for a second one to buy Muse so she can match Atlas.  If you haven't gotten this collar and leash yet, do it!
Please follow and like us: