I was shopping around yesterday in a liquor store and one of my friends gave me a bottle sweater. I asked if this was for Buttons, and he said, "Well, yeah!" Since I have a very small Chihuahua that weighs only 2.5 lbs, this was perfect. Who would have thought, bottle sweaters on dogs?
Every year, major liquor brands come out with Holiday bottle sweaters. It's a way to attract you to the bottle, and purchase it. Especially if you're planning on gifting it. Then, you don't need a gift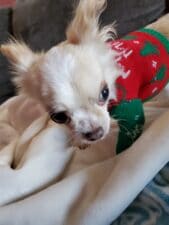 bag. It comes with one for free.
Of course, if you have a dog that's larger, then you may be left without. If your dog is say, the size of a bottle though, it's perfect! So, where do you find these bottle sweaters?
Liquor Stores During the Holidays.
Liquor stores during the holidays almost always have bottle sweaters. Many major liquor and wine brands come out with these festive sweaters just for the Holiday season. It's fun on the bottle, especially as a gift. This is, of course, the idea behind them.
Buying a bottle that has a sweater on it makes a great gift. Instead of buying a gift set, you get the cute sweater. Not that gift sets aren't fun. Of course they are! However, not everyone likes what comes in the sets. You usually get some sort of glassware. That, or some zoom lens that you can attach to your phone. I tried that one year, the pictures were…okay.
Finding the sweaters is usually pretty easy depending on the liquor store near you. Of course, you can probably buy them online as well. That is, if you can have liquor shipped to you. Up here, we don't have that luxury. Where else can you find these cute, festive sweaters?
Other Places to Find Bottle Sweaters.
Liquor stores was the main place to find these. However, if you don't have them there, they may be in the grocery stores as well. In most states, outside of Alaska, wine can be bought in grocery stores. Up here, I'm afraid you have to go to a licensed liquor store though.
If you don't find these sweaters in any of your stores, then alas, you may need to just buy one online. Though, this defeats the purpose of getting one for free with the bottle you were already purchasing. In poking around, there are some online that vary in cost. But finding them in stores is better since they come with the bottle for free.
Now that you've hopefully found one, do they even fit?
Do the Bottle Sweaters Fit?
I have to admit, my little dog is tiny. This isn't my first year putting a bottle sweater on Buttons either. In fact, every year that the big company's comes out with one, I get one. Now, not all are created equally. I will say that! Titos came out with one a couple years back, and the fit was terrible! The neck was too small, and the arms, well, too small.
I'm not sure there wouldn't be a dog alive that could fit that Titos one. Makers Mark is usually my favorite. Their bottle sweaters fit easily on my dog. In fact, the one I got yesterday fit just fine.
The arms are longer then usual, so it did take some precious care to get it on Buttons. I'm careful with her paws as they're so small and fragile. I took extra caution with this one because of the length of the arms.
That's not to say that I can't make adjustments of course. It would be very easy to cut two holes in the bottom of the sweater to make it fit perfect. However you'd like to fit it, they have stretch. Of course, you have to have a very small breed of dog. Atlas is just too big for that to work with her, obviously.
Fun for the Holidays.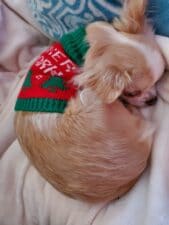 If you're able to find one of these near you, then you already know how fun they are. Not only is my dog warm and cuddled up, she's also a Makers fan! Not really. I would never give her whiskey. She wouldn't drink it anyways, she's very picky. Buttons doesn't drink out of plastic water bowls if that tells you anything.
Not only are these sweaters fun for the holidays, but they're free! And she sure does love the bottle sweaters on her! She gets very excited when I get new clothing for her. Doing her prance walk when she's dressed like she's in a fashion show.
I will admit, Buttons loves to be the center of attention. It was no different with my dogs watching me put this on her. Atlas, of course, was very jealous and didn't understand why she wasn't getting dressed.
Final Words on Bottle Sweaters on Dogs.
Hopefully you've been able to find one where you live. Look for the major brands that have them on the bottles already. Many people don't know the sweaters come free, and I've seen some take them off. But if you have a small dog, or a friend of yours does, grab that sweater. Gift it to your friends dog.
A fun and festive way to bring your pets with you for the Holidays. They're dressed up, and maybe you brought that bottle with you to dinner. Your friends and family will thank you for that!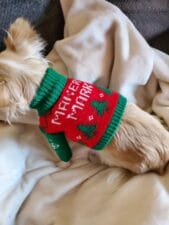 Also, remember, if it doesn't fit with the sleeves, they're easy to cut off and make little holes. Or, leave the arms on and they'll just stick out to the sides. Too cute and too funny. The thing to remember, is to have fun this Holiday season. Even with our dogs! So grab that bottle sweater today and put it on your small dog!
Have you tried a bottle sweater on your small dog yet? How did it fit? What brand did you buy? Does your little dog love it too? Share your experiences with us!
Please follow and like us: