With the Coronavirus today and the possibility of spreading it, it's difficult finding dog clothing for sale. Stores are shutting down early right now, people are staying indoors because they don't want to risk getting sick or even spreading the illness. This makes it difficult to shop anywhere because of the panic and illness that's spreading.
Does this mean that you shouldn't take your dogs for walks? No, absolutely not. We still take our dogs out for walks and not necessarily in the parks where we might be in danger of getting ill because of possible crowds, but there are plenty of places that we still have to take our dogs for walks. They have to do their business regardless of contamination.
Do Pets Really Need Clothes During A Crisis?
As I've mentioned in previous articles, I live in a cold climate, Alaska. It is vital that my dogs wear clothing when I take them for walks because of this. I have clothing always on hand for all of my pets; I start buying them coats and sweaters at a very young age so that they get used to wearing the garments.
So what about the new owners out there? Have people stopped adopting pets simply because of COVID-19? No. Out there, there are pets in need of homes and while we have this time to be cooped up in our homes, why not get a furry friend that you have ample time to train and be around?
If you live in a cold climate, then you know as a new pet owner, you must have clothing to take them for walks. If the temperature is cold enough for humans to wear coats, then our pets should be covered as well. I have short hair dogs and they get cold fast, so it's vital to protect them as well.
Can Pets Get Sick If It's Cold?
Yes. Pets are like us, and if you don't have clothing for them in a cold climate, then they get sick just like we do. They get colds and then they might sneeze, cough, etc. With a pet though, they don't understand why they're sneezing uncontrollably and it can be damaging to their systems because we don't typically have medications on hand to help treat them for a common cold that they may contract.
Seeking vet assistance is very important if you think your dog got sick from lack of warm clothing during a walk in the cold temperatures. So to avoid needing to add on those costs, buy them some sweaters and coats and ensure that your furry friend is warm just like you.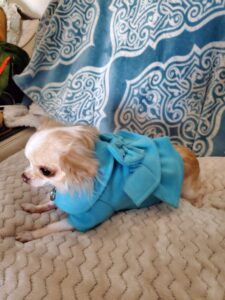 Is It Hard Shopping For Clothes Right Now?
Yes. I'm not going to butter coat this, but it's difficult right now finding anything in the stores because of the panic everyone is experiencing. Local pet stores where I live are running low on supplies because a lot of people are hoarding items in the event COVID-19 gets worse and we're confined to our homes longer than we thought we needed to be. Unfortunately, things may get worse before they get better.
So, where can you turn right now? Amazon isn't shipping anything besides household items that most people are in dire need of right now. You can still order on Amazon, but your shipment won't come until they open their warehouses back up for everything they used to ship before.
Once that happens, get what you need for your dog or cat now so that you're prepared in the future. Always have at least one sweater and one coat on hand for each pet that you take outside. If it's very cold where you live, have booties as well. Their paws are susceptible to frostbite just like we are. Take care of their paws.
So, Where Can You Shop?
As mentioned above, Amazon is closed to most things right now, but they are one of my favorites sites to shop from. I often go there to tinker around and see what's new in the pet place just so I can buy more clothing for my friends. You don't have to spend a fortune buying clothes as I've mentioned in previous articles, but look for the good bargains.
The link above it to Amazon directly for when they open back up for shopping. It is an affiliate link, so I do make a small amount of commission if you shop from there at no additional cost to you.
Amazon has an amazing selection of dog clothes. Anything from T-Shirts to coats to booties. If you live in a warm climate, then shopping isn't necessary for you right now.
PetCo also offers a lot of options right now and they will ship directly to you if you need cold weather gear. When searching for anything on their website, you can also see if it's available to be picked at your local store and whether they have it in stock if you don't want them shipping, or you need it faster. I always call the store after finding the SKU to any item to ensure they're able to locate the item in question. This saves you the time of driving there and being disappointed in the event they're unable to locate the clothing item in question.
In The End, Your Pet Is Worth It.
With the panic everyone is facing with COVID-19 right now, if you need to find dog clothing for sale, look online for other retailers that are still open for business. There are some private companies out there that are still shipping dog/cat clothes to those in need, it just takes a little time and searching. Don't give up right now if it's cold where you're at. In Alaska, we're still getting snow and Spring isn't in our forecast for at least a month, so clothes are a necessity for my family.
I don't have any new additions to my pack family, but if I did at this present time, I would definitely be buying them some clothing items to keep them warm until the sun warms us up. Many of you out there are still facing the cold temperatures, and you might be concerned right now too – it'll be okay.
Look to my link above, see when Amazon will ship again, go to your local pet stores, see what's available, or, PetCo online and have your item shipped. At the end of the day, all of our pets are important to keep safe right alongside of us, so take care of them.
Be safe out there readers.
Please follow and like us: