The other day, I was over at my friend's house. She was busy spraying off her upper deck with a hose. It was an attempt to get rid of the pee and poop her dog left behind over the winter. And, I've been where she is. In fact, for years I was doing this. See, in the houses we live in, we have a deck that is the size of a two-car garage. Our decks sit over the garage, so that's why it's that size.  And every year, I would have to spring-clean it.  This last year though, I made an outdoor space for pets.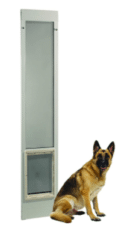 What does mean? An outdoor space for pets? So, in Alaska, we get a ton of snow! And I mean, a ton! At the start of this last winter, my dogs were doing what they always do, run out on the deck to do their thing. First off, I have an un-fenced back yard. Second, the metal door likes to freeze and not open during the winter. So, in order to let my dogs out, I have a dog door on my deck.
Why Have a Dog Door?
Not everyone with dogs has a doggie door. But when you live in a cold place like here, you need one. If your dog likes to wake you up at 2am to go out, do you really want to go out in -20 degree F weather? Uh, no! That sounds like a kill joy to me. Let me stand here in the freezing temps and wait for them to do their business. Meanwhile, by the time they're done, I'm wide awake! No sleep for you, Katrina!
So, I bought a dog door last year that was only $200 from Home Depot. Best $200 I've ever spent.  I did find it for less on Amazon though!  Same size as mine, and adjustable to fit most sliding door areas.
However, every year, my dogs go on the deck. In the summer, I don't care so much. I go out and clean it up every day. No biggie. In the winter though, when it's snowing big, fat, snow flakes, you don't want to stand out there. Waiting, waiting, waiting. Not only that, the poop gets covered quickly with snow. Good luck finding that! Sure, you can shovel it over the deck. But your neighbors won't like you very much. Brown and yellow snow going over the side. Yuck.
So, I was tired of this. Every single year. For the last 10 years.
The Start of an Outdoor Space for Pets.
If you have a deck, it's easy to make it pet friendly. No, I'm not talking about a garden space. Your dog doesn't really care about your veggie garden, or the overall Fung Shui of your space. Unless you're feeding them the veggies of course. No, I'm talking about having an area for them to go on. You know, do their business!
Last year, at the start of the season, I already was shoveling yellow snow from my deck. I'd love to say that I had planned accordingly, but no, I didn't. One day, I'm standing at the sliding glass door and I see paw prints all over. Under these paw prints, was bright yellow snow. Ew. I realized, that it wasn't cold enough yet to freeze the pee. Nope. My dogs were stepping in their pee and then coming inside. Now, this grosses me out! Pee all over the floor! After mopping, cleaning and paw wiping just 2 times, I had enough.
An Outdoor Space for Pets.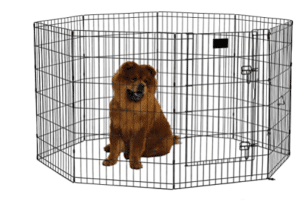 After having enough, I opened up the dog pen I had bought for Atlas for when she has pups. I decided that I was going to enclose the space this time so they couldn't go all over the deck. If my deck was small, and easy to clean, sure. But no. My deck is like 25 feet by 25 feet. Shoveling that every single day for 7 months? I'm good. Most people up here aren't going to do that either. Trust me. I have a lot of neighbors that don't do this. Plus, it snows almost every day. You don't spring-clean your house every day, you're not going to shovel every day. I'm talking, shoveling your 30 foot driveway AND your huge deck.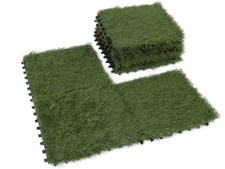 So, I put the dog pen up. I made an enclosure that was roughly 6 feet by 3 feet.   You can change the shape however you see fit.  You can stretch it out so it's long like mine.  I just bungee it to the sides of my door.  So, it goes from the dog door around the grass pad I have for them. I had ordered these grass pads from Amazon last year since I was tired of them going on the deck itself. So, now they have 2 sets of fake grass to go on. Mainly because they come with 9 squares. Odd. I wanted 18.  I will say, I thought about just getting the grass rug.  However, these pads allow for the pee to run under them.  Not build up on the rug like the others.  So, it's more expensive, but it's worth it if you want it to drain like I did.
I did end up shoveling the deck to get rid of this nasty snow. Pushing it all into the driveway, so I didn't make my neighbor mad, or grossed out, of course. Then, I made my hubby bring home the plow truck and take care of that mess. Now, a fresh start.
The Outdoor Space for Pets is so Much Better!
After I put this together for my dogs, now it's easy to clean up! Last winter, every day, I went out and picked up poop. I know, I know, gross. But, you know what, dogs have to go somewhere, too! Regardless if they go in your back yard, or where ever they go, we all have to clean it. All of my friends are dog lovers. Now, with Spring here, every single one of them is talking about needing dog poop cleaners.
But guess what? Mine, is all done! I didn't need to do the usual spring-clean up like I always do. Every year, I was my friend down the way. Spraying my deck. Taking dish soap and spreading it around. Then, taking a push broom and scrubbing away the rest of the stink. Nope, now my friends are all going through this. But me? It's been done for over a week.
And, even with a back yard, I see posts on FB asking about pooper scoopers. Any person with a dog is going through this in Alaska. I would still have this pen set up in my back yard for my dogs, even if they went on the grass. Regardless of having a pooper scooper come in to clean it up, this would allow them to easily clean the area. It's also partially covered, so the poop doesn't get covered with snow. It is amazing that cleanup was a 10-minute job for me. Usually, it takes days.
Final Words on an Outdoor Space for Pets.
Hopefully, you can see the value in this outdoor space for pets. It makes clean up so much better in the winter. If you live in a temped climate that stays the same, then no need honestly. Unless you want your dogs to go less on your grassy back yard area. I suppose I would still have this set up so that my kids don't have to worry about stepping in poop.
As you can see, there are so many reasons to have a space set up for your dogs. Honestly, life was so much easier this last winter. I finally didn't have to stress about the Spring clean up for once. And, all my friends are still doing it the old way. If you have a dog, get this setup. If it's in your backyard with grass, skip the grass. But the pen? Totally worth it!
How about you? What do you have set up for your dogs? How do you keep your sanity during clean up time? What do you think of this set up?
Please follow and like us: