Product: So Phresh Washable Diaper for Dogs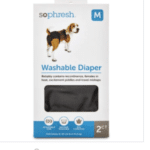 Price: $16.09 on Petco.com
Rating: 3 out of 5 stars
So Phresh Washable Diapers for Dogs.
Atlas went into heat 2 months earlier than I anticipated.   While this was a surprise to wake up to, I was prepared because I still have my So Phresh washable diaper for dogs from last year.  Every dog has a different heat cycle.  How can you know the signs of your female dogs heat cycles?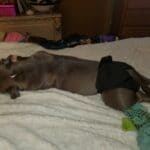 I gave these diapers only a 3 star rating simply because of the Velcro that attaches the wings to each other. I would rate these diapers 5 stars if the Velcro held up longer than one heat cycle.  Needless to say, they work great aside from this small point.
The diapers fit my dog very well, they hold in any moisture that she might leak.  Whether I'm not fast enough to catch her running out the dog door to do her business, or she's simply in heat.  Heck, the diaper even held in her poop last night, much to my misfortune.  I didn't know she had run out the doggie door, and I hear her shaking her tail from the kitchen.   When I realized she was outside, I glanced out the window while cooking dinner and I see poop flying out the little hole in the back for her tail.   At first, I didn't know what I was seeing and then it dawned on me.   Aw crap!   Literally.
Of course, dinner now on hold (ew), I had to run outside, take the diaper off carefully and rush her to the bath to scrub, scrub.   These diapers are so good, the poop was contained all in the butt.  It was quite disgusting if you ask me, but, I suppose no different from my children when they were in diapers.
How I Use So Phresh Washable Diapers for Dogs.
I will state, that while these diapers have an absorbent pad that holds the water and leaks in, I still purchase women's feminine pads that stick inside the diaper.   That way, I can simply change out the pad every time it gets pretty gross.
I also like that they come in a 2 pack, in case you run into my dilemma yesterday.  You can wash one while using the other.  I usually go back and forth between the two diapers while she's in heat.
After last nights episode, I also set the dog door to the side so that I have to physically let her out.  Then, I can remove the diaper easily and I don't have to worry about another accident.
The Price May Differ Locally Vs Online.
As a side note, I went to Petco directly 3 days ago to purchase 2 more because her heat was unexpected.   I still have the 2 from last year, but as I stated above, the Velcro doesn't really last on these.   A simple fix of reattaching new Velcro, even if you use a fabric glue, so that's on my to-do list.  However, I mention the price may differ because buying them in the store in Alaska, they were $22.99 for the pack versus the online price I saw today for only $17.24.
As for shipping, I'm not sure on the cost or if there is a cost.   I had to buy mine from the local Petco because I was in desperate need and the Velcro would not stay put.   I've even thought about attaching buttons instead of Velcro.   Buttons wouldn't be as fast, though, when she really has to go outside.   I'm not sure if I want to fumble with those now thinking about it.
Overall, A Decent Buy.
Even with the minor inconvenience of the Velcro, I still recommend these.   I will say, that Atlas likes to go outside – A LOT! S  o maybe if I didn't have to peel the Velcro as often as I did last heat cycle, they would have lasted longer.   Regardless, I will continue to buy these since a lot of the other brands are back ordered and this brand I can count on to be in stock.
To order So Phresh Washable Diapers for Dogs –  click here now.
What do you use for your dogs in heat?  Or, to prevent leaks period?  Comment below so others can know!
Please follow and like us: