.Product: Wellness Core RawRev Dog Food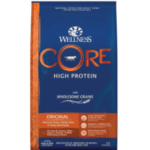 Price: $66.99 for 20lbs
Rating: 5 out of 5 stars
Wellness Core RawRev Dog Food
In recent articles, I mentioned most of the dog foods that I've recently been looking into.   Almost all contain some chemicals in them that are harmful to a dog's health.
It stemmed from online pictures on Facebook.  This lead to many hours of research into the brand I was currently using.  Also, to FDA websites, personal reviews from a number of sites, to recalls issued directly from the companies. After discovering that there were a number of ingredients that were harmful to my dogs, I decided to look further. Click my articles here to read more on the chemicals contained, and here for my initial solutions.
Today, I want to feature Wellness Core RawRev.  Now that my dogs have actually been eating it for over a week, and actually enjoy the food in general. Why Wellness Core?
After 18 grueling hours, I finally found a dog food that doesn't have hidden ingredients.  It also does not contain the harmful chemicals I found in so many others, and, my dog's actually eat it.
I Wanted Something Healthy And Convenient.
As mentioned in the previous articles, I cooked for my dog, but I still want a dry dog food that they'll eat that I can just scoop into their bowls. While cooking is the healthiest way for my dogs to live, they also need vitamins and minerals that I can't always ensure they get with the foods that I cook.
In searching for days, I finally found that some dog foods, like Wellness Core, are made with limited ingredients, with words I can pronounce and actually know what they are, and it's not super expensive.
After a little over a week of feeding it to all my dogs, I've discovered that they seem to enjoy it and their bowel movements are smaller than when they were eating the super processed stuff.
I Definitely Recommend This Food.
Looking into each line in the Wellness Core, the dry dog food that contains wholesome grains is the one I recommend. Whether you decide to give your dogs Turkey, Chicken or Game meats, this seems to be the best brand out there with actual ingredients that dogs like.
There may be other dog food lines out there that are better, I only looked into about 30 brands, but this is the one I went with. I simply needed something that I didn't feel like it would hurt my dogs in the long run and food that I don't always have to cook, especially when I'm pressed for time.
Click here to find it online and see what your dogs think. Otherwise, what brands do you choose with actual ingredients that your dog's love? Comment below and let us know!
Please follow and like us: