In Part 1 of walking with your cat, I had a lot of great feedback from my readers.  Many have actually entertained the idea of walking with their cats, but haven't quite trained them up yet.  One such reader expressed that her cat was older.   She wasn't sure how well the cat would do with the training portion of it.  Here's walking with your cat part 2.
I did mention in Part 1, that it's best to train a cat at a younger age.   Younger animals aren't so set in their ways and used to how things are; you can read more here.  Cats can be exceptionally hesitant to learning new tricks once they get older and may not even entertain the idea of having a collar or harness put on them in the first place. So what are some other options for those cat lovers out there that want to take their cats for walks? Let's dive into some accessories!
Cat Backpacks – Yes, They're A Thing!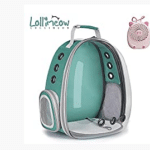 I keep a close eye on the new inventions that come out all the time for pets. For one thing, I write about pets, so I like to know the newest and greatest that people are coming out with. While backpacks aren't new, there are some pretty trendy ones out there that have recently hit online and I've been keeping close tabs on those.
One of the newest I've seen is called the Bubble Backpack. It's basically a backpack that you can tote around that looks like a bubble sitting on your back. These things are filling up the internet space for anyone that wants to tote their cats around on their back while the cat can actually look out and see the sights.
While I understand the concept of this, I also think the overall design is, well, let's face it, it'd be weird to see someone with a big bubble on their back while the cat is bouncing around during your walks. Overall, for me personally, I might skip this particular one and get one that's more like a regular backpack.
More Cat Backpacks.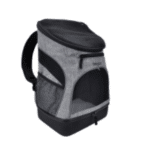 So I said I'd skip the bubble and get a standard backpack for my cats if I felt that they were too old to learn new tricks. With cats – yes, they can be grumpy, so sometimes you might want to skip training an old cat new tricks and just put them in a carrier and bring them on the way.
The style that I like is the backpack that has mesh on the front versus a big bubble. First off, the bubble seems like my poor cat would have a hard time breathing, especially on a hot day. Would I want to be toted around on an 80 degree day, the sun shining straight through my bubble and only some air holes around for breathing? I watched Bubble Boy, that sounds awful!
No, I would go with the mesh. Breathable and still very sturdy. I do think I'd enjoy having someone carry me around while I got to hear the birds chirping, the trees blowing, the wind hitting my whiskers as we walk on a nice path. Seems like a nice day to me. But what if I'm older and the bouncing around seems like I might get upset?
They Have Strollers!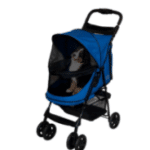 Okay, don't hate me, but I think the stroller is a nifty invention. I mean, why not? Not only is this good for my pets to walk with me, especially if I have elderly animals, but I also don't have to worry about the bounce. I had a very old dog, Annie, she was 14 years old when she passed. She wanted to go on walks, honestly, she missed them, but she couldn't. She could barely walk and the last walk I took her on was heart breaking for me. Annie, in her prime, was my running buddy. She went everywhere with me!
The last walk, her collar was hanging from her neck, she was limping after only .5 miles and kept walking into things (she couldn't really see anymore). For Annie, I would've gotten this stroller in a heartbeat.
Just like with humans, we want to get around when we're older. Animals feel the same way, they just can't communicate this with us. We get wheelchairs, so why not a stroller for your animals?
I have to admit, I'm entertaining the idea of this to be able to run with Atlas, my newest baby. She's a Pocket Bully, very short and stout, but has a very hard time with walks with me because I tend to walk at a fast pace. Does she still want to go with me? Yes! Of course she does, she's a dog. I think the stroller is the perfect way of bringing her around with me on those really long walks I love to take!
There Are Different Strollers.
Just like with the backpacks, there are different kinds of strollers and trust me when I say, they don't all look equal. Have you had kids? You know that some strollers are made for purely concrete – don't you dare take that thing to the park! Then there are others that are made for off-roading! Let's go baby – Don't worry, Mommy's here!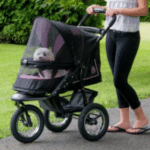 I don't imagine that I would get the stroller that's made only for pavement, unless I lived in a concrete city like Honolulu again. In Alaska, we're all made to go off-road, so I need one that meets my needs. Did someone say let's run in the dirt? Come on Atlas, let's go!
Conclusion
At the end of the day, as a pet owner, you know what your pet will like and won't like, especially an elder pet. We've been there during their ups and downs and we know whether they're going to claw your eyes out when you get home based on how the walk went. I mean, put yourself in their paws; you're out for a nice walk with your owner, enjoying all the sights and sounds, and next thing you know you're Ace Ventura, Pet Detective in a huge truck going over bumpy terrain; now you're being thrown around a small backpack type thing. Hmm, stroller maybe?
The stroller is easy to handle, easy to walk them, gliding along the ground with room to stretch out. But, if you know that you're a gliding walker and you want to be able to bring them anywhere with you, then the backpack might just be for you!
Hopefully, either way, you're able to bring your pets around for walks and let them be your companions – whatever you choose.
Just get out there before winter and enjoy that warmth and companionship! Soon, it'll be Netflix and chill, curled up watching a good movie with your lap warmer keeping you company.
*Clicking on any of the pictures will take you directly to the product to purchase; most are on sale today.
Please follow and like us: