Cats will eat grass in order to induce vomiting.  Similar to dogs and for various reasons.  In a recent article, I spoke about dogs vomiting by eating grass.   However, I didn't touch base on why cats eat grass though, and it's for similar reasons.
Animals are instinctual. Humans, we are sometimes. More often than not, when it comes to a fight or flight syndrome. The need to live on. Animals though, they run on instincts almost all the time. Sure, dogs are more domesticated, but they eat grass!
[Affiliate Disclosure: This post may contain affiliate links which means I may earn a small commission if you purchase anything through one of the links. However, this will not affect what you pay!]
What are some possible reasons behind this?
The Benefits Of Inducing Vomiting.
I know this sounds terrible, the benefits of inducing vomiting? Why would there be benefits to puking? Well, for us, our stomachs reject certain foods or fluids. Many people experience this when they drink too much alcohol. Basically, your body is telling you, "Enough already!" Now, whether we choose to listen to it after, well, that's on you.
Animals on the other hand induce vomiting for several reasons. Cats will want to vomit if there's too much fur in their stomach and they can't digest it. Or, they've eaten something their stomach doesn't like. Maybe, there's too much bile in their stomachs. Several reasons, and factors come into play.  They may have also eaten too much food.
Often, you'll see them munching away on your household plants in order to achieve this. Not all plants are good for this though. This is where the cat grass comes into play.
Dogs will find grass when they go outside. Since many cats are strictly indoor cats, they don't have this luxury. So, they simply eyeball the dog and give them the stink eye. Especially when they know the dog is free and they're stuck looking out the window.
Grass Contains Fiber.
There is also the benefits of fiber in the grass. See, cats have been munching on grass since they've been around. Cats in the wild will eat grass. Domestic cats munch away too, when they can. Almost all animals will eat some form of grass. Maybe they know they need the fiber?
I mean, fiber helps regulate us. In, you know, the fecal region. If you've ever had a problem with constipation, the first thing your doctor asks you is, "Are you getting enough fiber?" I mean, where does this stuff come from anyway? Well, vegetation. Yes, like grass.
This doesn't mean to go out and buy some grass for yourself. No, no. We can find it in more delicious ways. Apples, beans, lentils, avocados, dried fruits, etc. Many of these foods aren't good for your pets though. So, they get it the only way they can, grass.
Cat Grass May Also….
Along with inducing vomiting and providing fiber, cat grass is also thought to help with digestion. Wait, what? Okay, so we drink or eat probiotics to aid with digestion. If you don't know what this is, basically, it's a healthy bacteria. See, bacteria lives in our intestines and helps break foods down.
There are two types of bacteria. The good and the bad. We want the good. When you take antibiotics, the main thing it does is kill bacteria. The problem? We don't have normal bowel movements, and we can get bloaty. After taking antibiotics, your doctor will usually say, "Be sure to replenish those probiotics." They'll even tell you some foods they're in. Yogurt is a big one.
But this doesn't mean we can go out and buy yogurt for our cats! Nope. Instead, the cats naturally will eat grass to help their own digestive system out. Cats know when they need something. They're more in tune with their bodies than most humans! Grass provides the healthy bacteria they need like yogurt does for us.
So when you see your cat trying to eat your houseplants, then it may be time to find some cat grass. Where might you find this stuff anyhow?
Where To Buy Cat Grass.
Cat grass is similar to the grass in your yard. Except, there are some important differences. Cat grass is not going to contain any pesticides. No potentially harmful chemicals. See, in our ground water, there is usually some form of chemicals animals shouldn't consume.
Not all grass of course. I mean, when my dog is munching on grass in the forest behind my house, I'm not worried about them. I know that that grass hasn't been treated or sprayed with chemicals. How do I know? Because it's a forest. Lots of weeds. Lots of overgrowth. Plus, I've lived here 21 years and no one touches that part of the forest. It's my backyard. It also doesn't see the water from my hose. It's kind of overgrown already.
Cats though that are indoor cats, they need grass. If you let them out, you'll find them munching away when they need to. If you have chemical free grass – great! If not, then head to any pet store retailer. Petco has cat grass in different sized containers available. You simply take care of it like any other houseplant.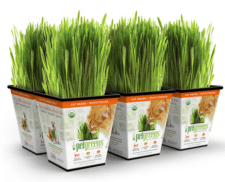 You can also buy seeds and grow it yourself. Here are some tips on how to grow seeds at home.
Final Words on Why Cats Eat Grass.
I hope this answers your questions on why cats eat grass. Like dogs, they just know they need the grass. Also, don't get upset at them when they vomit it up. That just meant there was something in their stomach they didn't like. That, or a very large fur ball came up mixed in with the rest of the stuff. Ew.
It's natural though. The stomach – it's what they're designed to do. Ingest or not to ingest. That is the question. Besides, I'm pretty sure if we had to lick fur all day, we'd get tired of it, too. I'm pretty sure our stomach's would want that out as well.
That, or they simply ate something that didn't agree with them. Who knows? I've had plenty of male cats get into things they're not supposed to. Next thing I know, they're eating the grass. Of course, what follows is fun. They love to hide in a very tough spot to get to. Then comes the hurling noises. Fun, fun. Now to climb under there and clean it up.
Hopefully this helps you to know that cats need grass. So, when you think of your dog eating grass, think of your cat as well.
Please follow and like us: