This year has not been a year of saying, "Gosh, I just love this year!" So many things have gone wrong that many are putting up Christmas decor early. Yes, we all need a little cheer extra early this year. Even I took down Halloween, and Christmas went right up in its place. Christmas is right around the corner though and I love getting my dogs presents. So, here's some of the best Holiday gifts for 2020.
Let's not let the year-end on the same note that it began! We can spread cheer everywhere we go, even with our furry friends. So, the first place to start is their stocking!
The Best Stockings for your Pets.
I've been looking everywhere I go for some of the best holiday stockings for my pets. While in Target yesterday, I poked around but they only had stockings for cats up, not dogs. I'll check out WalMart today and see what they have up, but in the meantime, I found some other ones.
Bitch New York has some of the cutest dog stockings out there! You can order a stocking that actually resembles your dog – that is, if they have your breed. They have quite a few though to choose from.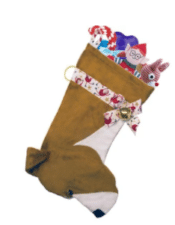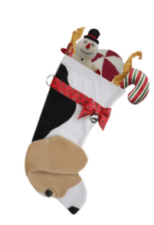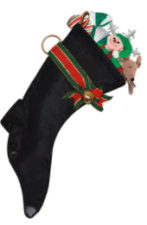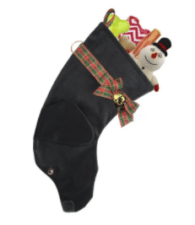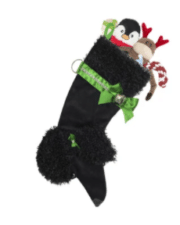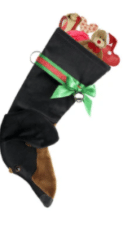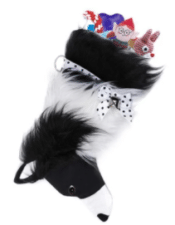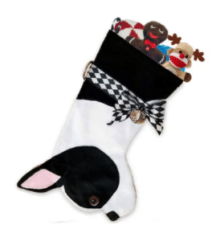 There are a lot of breeds to choose from, so I'm not going into all of them. They're all $51 for the stocking and you can be sure these will stand the test of time and can be put up every Christmas. How cute is that?
Even if they don't have your breed, they have many others to choose from.
Other Stocking Options.
They didn't have one for my Pocket Bully Atlas, though honestly, the Pit Bull would work for her since that's the shape of her muzzle. But if I didn't want to try to choose this one, there are others that are just as cute.
At Bitch New York, they have another stocking option that's only $21 and it has little dogs all over it. It's called Christmas Dogs Christmas Stocking. Much better than those cheap plastic things that are often filled with cheaper toys. More often than not, when you buy one of these, by the time you get home and take your groceries out of the bag they're already ripped. What a jip and a shame!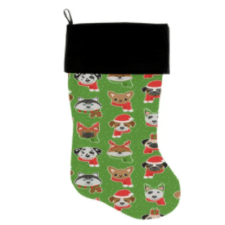 Petco even has their versions of stocking for dogs. I will admit, they have a selection of the cheapy plastic ones. But hey, if you're on a budget like most of America this year, that might be a better option for you! I know I'm not splurging on much this year because of the economy. I won't blame you for getting the little plastic toy filled ones!
Once you have your stocking, now it's time to fill it.
Best Holiday Gifts for 2020!
Face it, you want this year to go out with a bang! Why not get some of the best gifts for your dogs to reel in the new year of 2021. I just know next year has GOT to be better than this one. So, what are some of the best gifts for your dogs?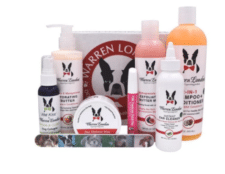 No matter what your budget, there are a ton of gifts out there for any doggo. Dogs can sense our emotions, so when it comes to giving gifts, they'll be happy because you're happy. I don't know about you, but I always feel good when I get a great gift for anyone, even if it's my dogs.
Even if you don't want to get a gift for just your dog, you can even get matching gifts for the both of you!
Matching Holiday Gift Sets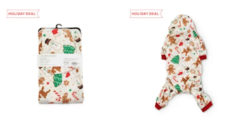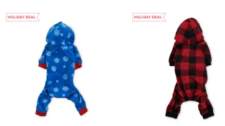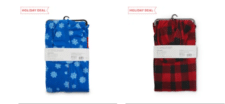 Even if you're buying for yourself and your furry friend, there are matching sets online. What are matching sets you might wonder? Well, PJ sets! At Petco, they have the Holiday Tails The First Snowflake Blue Match-Your-Pet Adult Pajamas. That's right, so not only will your furry friend be in their PJ's, but you will too.
The adult version the PJ's are $21.99 and the dog's (or cat's – order a size small) are $14.99. They have the matching sets in Blue Snowflake, Red Plaid and Home for Christmas.
All the sets are the same price, you just have to decide which color scheme you like best. So, even if you decide to not buy this yourself, if you have a friend or family member that loves their pets, gift them these. Trust me, they'll love it and they'll want to put them on their pet right away!
Additional Holiday Gift Ideas for 2020.
I hope I've given everyone that's visited my site some awesome Holiday Gift ideas for 2020. If I haven't, then there are some more subtle gifts out there, no matter where you shop from.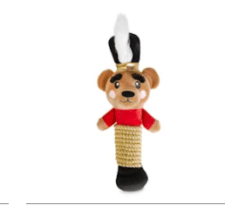 Almost every dog I know loves toys, and there's a ton of Holiday themed toys out there.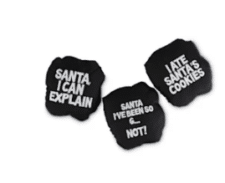 So many gifts, not enough Holidays. Don't let the year get you down and forget the spirit of Christmas. This time of year is one of the most special of the year. Spending time with loved ones, forgetting about the COVID for just a little while. Hopefully you're safe while spending time with family, of course.
Even if it's over video call, or however you choose, make sure those closest to you know how much you care. So, share moments, open gifts over zoom and have a wonderful Holiday Season!
Please follow and like us: