Why dog bathrobes might be needed.  I've been seeing more lately as they seem to be growing in popularity. I don't have a bathrobe for my dog personally, but I can see why some people do.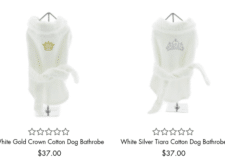 I have two very small dogs and when they're done with bath time, they're cold. It takes them a while to dry and this makes them shiver. One of my dogs, the smallest, requires to be blow-dried after her baths. If I don't blow dry her. She takes a very long time to dry naturally.
On top of the time it takes her to dry off, she shivers furiously. I usually have to wrap her in the towel in order to keep her warm. Not the towel I used to dry her off either, but a new towel. A dry one. This just causes more laundry for me, too.
Let's first look into how often you should bathe your pups.
Then, onto why a bathrobe could be a good addition.
Dogs get cold quickly, so I can see why it would help.
Lastly, their fur simply takes a long time to dry.
Bath Time for Pups.
I don't know about my readers, but I bathe my pups on a regular basis. My long haired Chihuahua just got a fur cut around her booty area. I know this sounds weird, but every time she goes out, she pees and it sticks to her fur. It's disgusting! She's a white dog and I can see the yellow stains around her booty. So, she gets a bath.
I did cut the fur around that area last time she got a bath, hoping to keep the pee from sticking. It kind of worked, but it's still a little long. I might have to pull my pet clippers out soon and shave her booty, but that's for another article, another day.
As for my other two dogs, I bathe them when they get into something or just feel dusty in general. I try not to give them baths too often since it can be bad for their skin. However, I use a natural dog wash. Burts Bees Oatmeal is what I currently use right now for them. This dog wash helps keep them soft, doesn't hurt their eyes and helps keep them from shedding too much.
After bath time, my short haired dogs get cold easily. So the bathrobe could be a good addition for them to stay warm after.
As I mentioned above, I think it's a neat idea. Instead of using a large, clean towel to dry her off, I could use the smaller bathrobe for her. This would help dry her off, and keep her more warm. I will mention, I'm not sure if she'll just drag herself around the floor with the robe on. That is a possibility.
From what I've seen and heard, other dog owners love their bathrobes they've bought their dogs. I'd imagine they would mention whether the dog drags itself across the floor wearing one. Although, I suppose I could be the first to video that. Would be a hoot to watch, that's for sure.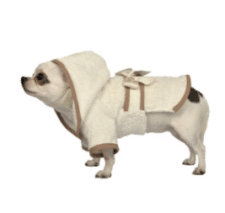 My small dog also loves to crawl under my bed if I don't blow dry her off. Once she's dry, she stops the skidding across the floor and under my bed. This is why I usually dry her off, very, very well.
They Get Cold When Wet.
As I've mentioned, dogs can get very cold when they're wet. Think about yourself in a colder climate (if you live in a warm climate). In Alaska, it's only 45 degrees F today and it's getting colder everyday. While in the house, it's 70 degrees F, it's still chilly when you step out of the shower.
Now, imagine yourself stepping out of the bath or shower and staying wet. You're going to get cold. Shivering unwillingly, you'll look for ways to dry off. Dogs do shake, yes, and I've tried to shake like them. It hurts my head, don't try it. This is why my dogs like to do the floor crawl to dry off. Though, with wood floors it doesn't work so well. But they try.
Their fur simply doesn't dry quickly. Why?
Fur Doesn't Dry Quickly.
Fur is thick and takes a long time for air to reach the inner parts of their coat. Their fur has different layers to it. They have the rough outer part of the fur which is what you feel when you pet them. But they have an under coat as well. This under coat is what helps keep them warm, and cool in the heat.
Because the inner layer is more like a down layer, it takes a while to air dry. It's like the underside of a woman's head. When we allow our hair to air dry, the top layer dries quickly. However, under all that hair, it stays wet for a longer period. If you step outside when it's 45 out there, you're going to feel instantly cold.
Now imagine how your dog feels when they have an entire body that's wet after that bath. Especially if they have to go out because the water made them have to pee. "Brrr."
Now I Can See Why The Dogs Bathrobe Might Be Needed.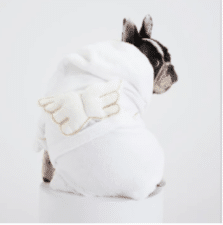 I've pretty much convinced myself during this article why a bathrobe would be handy to have around. I hate using six towels for three dogs when I give them baths. It's kind of a pain to wash all that. Normally, when I give one a bath, I give all three a bath because I'm already there. Already doing the chore.
It would be handy to wrap them up and keep them warm while I bathe the other two or last one. It would help absorb the water from the fur, and once taken off, they might be dry. Even if they crawl under the bed, at least it would keep the dust bunnies from sticking to them. Normally, I have to chase them around to keep them from going under there. Might be helpful to just have the bathrobe take the majority of the dust versus their fur.
I can see the many uses of these and why they've grown in popularity. Even on Tik Tok I've seen a lot of videos with dogs in PJ's and robes lately.
Here's where I'll shop for mine. If you want the same discount and personalization, just click this link. Plus, I love the clothes from here. I'm sure you will too.
Please follow and like us: