Product: Dog Bows – Barrettes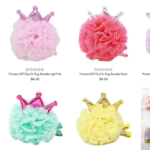 Price: Varies with Barrettes chosen; usually $5 and up
Store: Bitch New York
Rating: 5 of 5 stars
Dog Bows – Barrettes for Dogs Long Fur
For those of us with long haired dogs, we love putting dog bows or barrettes in our dogs fur. At least, I do!   I have a tiny Chihuahua that is only 2.5 lbs wet and she has long fur.  So, I like to dress her up in cute little outfits, like these – click here.  She must love it as well.  Every time I put her in a cute outfit, she prances around on her tiny little legs.
I often put bows in her fur when we're headed someone nice like the park or the lake.   The only thing with some bows is the clamp part that holds it to their fur.  If you get a cheap one, it will come out easily.  I've found the more expensive ones will actually stick to their fur a little better.   Look for the quality ones over the less expensive ones.
Different Styles to Choose from.
There are a lot of styles of dog bows and barrettes to choose from. They can be anything from just a simple little adornment for their fur, to something very fancy and creative. I've often chosen ones that were more simple rather than super fancy simply because she is small and has a tendency to run under objects quickly.
When I've had the more expensive ones, she has always lost them while she's running all around.
I also look for the ones that come in multi-packs with the matching sets so that in the event she loses one, she has another as a backup. Look for ones that come with at least two of any hair accessory if your dog is anything like my Buttons.
Does My Dog Even Like Them?
Actually, in the beginning, it took her some getting used to wearing them. At first, she swiped at them with her paw in an attempt to knock them off, but I have to admit, my dogs know my persistence and in the end, I won. Now that I've been putting them on her for about 3 years, she's actually used to them and doesn't mind them now.
I will say, that the super large ones are a distraction to her though because of her size, so I choose the small barrettes and those she likes.
I've gone to the extent of buying larger ones in the past because I liked how they looked, but because of her size, it didn't make any sense. Choose ones that will be comparable to your dogs size, otherwise they might just keep swiping at them.
Other Styles Like Bandannas.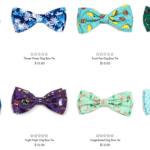 There are also hair pretties that are similar to bandanna styles They're usually referred to as Tiara's, but they do have ones that are like our headbands we wear – the material headbands of course.
Buttons doesn't usually enjoy this style because they encompass her entire head versus just a little barrette on top of her ears, but if you have a very large dog, they might actually like them.
I have a friend that has a short haired dog and they put bandannas around his neck and he is so cute when they do! He doesn't paw at them to get them off, so even if you have a male dog, you might find they don't mind the accessories either.
So, if you're looking for some awesome hair accessories for your dogs, then click here! Bitch New York has quite the assortment and they're the best quality in all the ones I've found. Pick yours up today!
Please follow and like us: