In most states, summer is at full swing and August tends to be the hottest month for many of you. In Alaska, summer is coming to an end and fall is right around the corner. This doesn't stop us Alaskan's from looking for good deals for next summer though. In fact, now is the time when many of us are looking for sale items and summer close out sales in preparation of the next summer to come.  One thing to shop for now, are dogs bathing suits.
In my summer end sales, I found dog's bathing suits in many of the pet apparel stores that I shop from, and honestly, I'm not sure why I never thought to put my fur babies in a bathing suit before. How cute would that be, heading to the lake with their life vest in hand, and my dogs wearing the cutest suits ever! I could just imagine Buttons in a little 2 piece and her little life vest getting ready for a day on the water!
Different Styles of Bathing Suits
During my search, I found that they have swim trunks for male dogs, one piece suits for the girls and my favorite, a two piece even for my cutest little Chihuahua! They have floral prints, summer fun prints and some are even very colorful!
I could just imagine that my dogs would be the talk of the park strutting around in their cute little suits, getting on the boat and being the center of attention.
Sure, some of you might be saying, "Why would you put your dog in a bathing suit?" Why not? I put them in costumes, coats, sweaters and everything else! I think a bathing suit is just what they need for next year!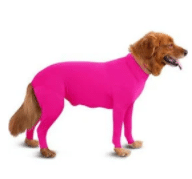 There are also the full body suits in case your dog sheds excessively and they like to jump into your swimming pool with you. I could definitely see the benefits of keeping as much fur from getting into the filtration system as possible, especially very long haired dogs like Golden Retrievers that have a hard time staying out of the swimming pool any time of the year.
Where to Shop?
If you've been reading my articles, then you know that I always love Bitch New York! One of my more favorite sites to choose from, they have them all. In fact, they have 16 different styles to choose from which is perfect for choices since each of my dogs are unique in personality!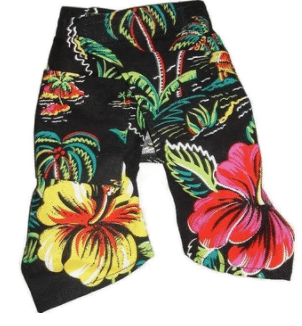 I love the Hawaiian style shorts and could definitely see Harry wearing these when we're on the lake, or even just a park with a stream or river for them to play in.
I think all the kids around would just have to pet him looking so cute in his Board Shorts!
There are quite a few online retailers that have their versions of the bathing suits as well. I mention some in the next paragraph, but Baxter Boo, PupRwear and many others have loads to choose from. Most are probably even on sale!
Are They Expensive?
Nope! In fact, the ones that I've looked at are about the same cost as a human's bathing suit, around $30 USD. But, as far as animal clothes go, they last a really long time and if your dog is already full size, you can bet that they'll be wearing these cute suits for years to come!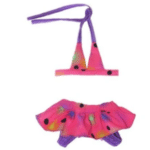 The only time I'd imagine you'll want to buy a new one is when your current one is out of style! As for fashionista's go, we know it's all about style!
As for other places to buy them, they seem similar in price to each other, so around the $30 marker is common. I'm sure Amazon has them as well; I simply didn't check them out because I love Bitch New York so much!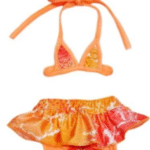 There are other pet sites out there that have them though such as Etsy, Wish, EBay, among others. Etsy's seem lower in price, around $15 and Wish has some for as low as $4 USD.
Can I Buy Them Locally?
I've seen Petco carry swim suits on occasion, though they are moving towards their fall lines now. But next year at the start of summer, Petco will usually have swimming suits for dogs, but their selection can be few and far between.
On their website, they still have the options for Life Vests and Swimming Suits, so I'd imagine they release them seasonally. If you haven't picked up a Life Vest either by now, check out this article here where I featured only the best so you can be ready with that in hand for next year too!
If you have other local pet stores, talk with the manager and see if they can bring some in for you if you prefer to shop in person. Many local shop owners are willing to bring in specialty products for their customers, but they don't know what we're looking for until someone asks for it!
Swimming with your Dog.
I have to admit, I didn't know that the suits were an option for dogs, but knowing how much I love to take my dogs to the lake, I think it's the perfect addition to their wardrobe and definitely something to buy for next year's summer fun! Now, dogs don't have to wear clothing, but it's really cute when I take my dogs out with me and they're all dressed up for the occasion and everyone loves them and just has to pet them!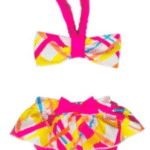 My dogs always get the best attention when they're out and about with me in their finest. Lots of extra treats, lots of petting and "ooh's and ahh's". Why not spoil your dog from time to time and let them know that they're part of the family?
You'll often find that your dog is very happy and excited for all the extra attention and sometimes, when they're finally home at the end of a long day with you, they sleep better than they have in a long time. I mean, it takes a lot out of you to be the center of attention!
Which style of bathing suit do you prefer for your dogs?
Please follow and like us: