I was fishing around on the internet today, and I saw an item that I've honestly never seen before – A dog with a backpack on. In all my years of window shopping at pet stores, online shopping for the latest and greatest in pet trends, I've never seen a dog backpack? How has this slipped through the cracks?
Some of my readers have probably seen these in the past and maybe you even have one, but this is one of the best inventions I've seen in a long time. How handy would it be to have one of these to tote around dog bags for poop, treats, collapsible water bowl and a small bottle of water? Taking your dog on a walk or a hike can seem like you're toting a diaper bag full of extra goodies, but with this magical invention, I'd only have to tote items for myself while my dog would have her items with her!
The Options Are Endless!
When I go on hikes with Atlas, like I mentioned, it feels like I'm carrying around a diaper bag with me because of everything I bring for her, especially right now because she's in heat! I went to a friends house the other night and I actually had to pack a bag for her, I had to bring extra diapers and extra pads in the event she has an accident in the one she's wearing.  If you need diapers, I also talked about them here in case you're looking.
It's typical for her when she's outside to squat to pee, she's a female, she's in heat, and she drinks loads of water. So when I'm about to go outside with her, I have to be quick to pull that diaper off, otherwise, she tends to pee in it. I have always just made it a priority to back extra's for her when I go anywhere and I suppose it helps that I've had children, so I'm accustomed to toting extra's around and have been for some time. But having this gadget will actually save me from having to tote items in a bag with me! Strapping this thing to Atlas, though? OMG, yes please.
Different Styles Of Backpacks.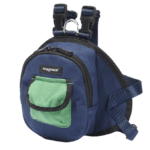 Once I found this awesome invention, I started looking more into it and I found that there are different styles of backpacks to choose from, and I also saw a bunch of reviews from other dog owners and what they look for. I know one thing that got good reviews are the backpacks with a metal ring on it to attach their leash to. This makes sense. Why not get a backpack that fits snug, almost like a harness, that has a ring on it so that you can also use it to walk them with?
Sounds like a *duh* idea, but honestly, if you're like me and just discovering this, I'd want to buy one that has the options. I'd also look for one that has the ability to hold all the items I would normally carry around for her. The ones with multiple pockets seem to be the best ones out there.
What Dog Owners Say About Backpacks.
In my internet searching, I found a lot of dog owners actually love these things. Most of the ones that I have seen in the past, but I guess it never registered with me, are the packs that go over the back of the dog and sit on either side of their chest. Similar to saddle bags. These are more popular, but a lot of people can put too much weight in them and this can cause your dog to struggle and be resistant to wearing this backpack.
The one I saw today is just like a backpack for kids – the small kind. And it's so cute! I actually want to order one for Atlas, only because I know it would make taking her around places so much easier!
I'm enamored with the small backpack that's similar to a child's simply because I know it's not big enough to over stuff, so she doesn't have to tote too much, but just big enough for her dog bags, small water bottle, small collapsible bowl and treats.
Finding The Right One For Your Needs.
There are a lot of sites out there for dog backpacks – I saw quite a few on Amazon and other similar sites. The one I saw that was so darn cute is on This Dogs Life – click the link to go directly to the site and search for "Backpacks". It seems newer, there aren't any customer reviews yet, but finding this similar style on other sites, dog owners seem to love this style.
There are a lot of pictures out there as well of dogs wearing this style, so maybe dogs take to it easier than the saddle bag style. I would imagine that the saddle bag style can be overstuffed – that seems like that would put a lot of weight on their backs and cause possible damage to the dog; Weighted vests are similar in style and I do know that if you're not careful with this, it can cause some serious damage to a dogs back.
I Like The Small One's Best!
After all my searching today, looking at reviews, pictures, other dog owners stories, I like this small style the best. This is the one that I will order for Atlas. The other saddle style, I'll stick with my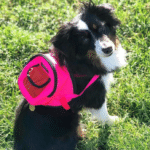 weighted vest instead to help her with building up strength in small bursts rather than overload her for a walk or hike. It just seems the more practical one is the one pictured to the right, personally speaking of course.
For my readers out there – have you bought a dog backpack in the past? If so, what are the pro's and con's of the ones you've purchased?
Did your dog like wearing it at first, or did they have to adjust to it?
What do you put in there to make it easier on the items you have to carry around for your dog?
I'd love to hear from my readers – post your comments below!
Please follow and like us: