Ah, the thought of Christmas only month's away and people are starting to look into Christmas ideas already. Or, if you're reading this article and Christmas is just around the corner, maybe you're looking into those Christmas dog shirts for your furry friends now.
Well, it's never too late to look for Christmas sweaters for your dogs! I mean, they have to wear something to the party too, right? Can't have the rest of the family dressed up in their holiday wear and your dog's just hanging out thinking, 'What about me?'
I'm here to help you out with finding only the cutest and most festive holiday sweaters for your dogs and if you order now, they'll definitely be here by Christmas. Maybe you even want to dress them up for Thanksgiving too!
Where To Find The Best Christmas Outfits?
I've done the work for you, and found the perfect site to order those Christmas sweaters from now. Why not get a head start on your holiday shopping?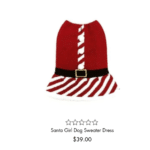 One of my favorite places, as my avid readers already know, is Bitch New York! They have some of the best sweaters and clothing for dogs of all sizes and their clothes are quality clothes that won't fall apart after one season – so that means you have your sweaters for next year as well!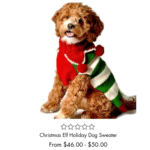 From Christmas Elf, to Santa Girl, they have it all and the prices are very comparable. I used to strictly shop on Amazon, but I've found that recently the quality isn't what it used to be. I hate when I put something on my dogs and they fall apart during the first use.
Who likes to waste money like that? I sure don't! I want clothing that will last through the years, so if one year I want to dress my dog up as Santa Claus and the next year as Rudolph, I should be able to count on those clothes.
Different Options – Bitch New York.
As mentioned above, there are a bunches of different sweater options for your dogs this year. One of the cutest that I've seen so far – I'm actually ordering for Atlas this year as well right now – is the Christmas Elf Dog Sweater. At only $46 USD, I can't beat that price honestly.
They have this Elf sweater from size XXS all the way to XXXL. Wow! Not many places offer dog sweaters in that kind of range. Usually, I'm stuck looking for the only clothes available in the larger sizes, and honestly, that can be frustrating to no end.
It's Too Early!
No! It's never too early to be ready for Christmas! I mean, as of writing this article, it's only 153 days, 9 hours, and 24 minutes until the most festive time of the year!
Putting up the tree, hanging Christmas lights, the smell of cinnamon and spruce……the wreaths, the presents under the tree….so many fun things to look forward to during that time of the year! And the Christmas movies! My favorite!
My kids especially look forward to this time of year too, and they love seeing the dogs dressed up in their cute sweaters and can't stop taking pictures. This will be Atlas' second Christmas and I'm so excited since last year she was still pretty young and wanted to just eat all the decorations. This year, she'll be almost ready for puppies, so we're excited for that as a gift soon.
What About My Cats?
Because Bitch New York has so many sizes available, honestly I would order for my cats from the same site. I mean, dogs and cats have the same body structure, meaning, all four of their legs would fit into the same style of clothing……I don't see why you can't order an extra for your kitty as well.
When it comes to ordering for your cat though, just order small size and they should fit fine. Unless of course, you have a very large cat, say, like a tiger or something. Then you would need the XXXL!
Personally, I've bought dog clothes and put them on my cats in the past. My cats didn't really like wearing clothes of course, they would give me the death stare more often than not – and of course, I waited for that dreadful pee on my pillow act….no, they never did that. They just laid there and dealt with Mom's silly antics.
My dogs however, they love wearing clothes, especially in the winter.
It Doesn't Always Have To Be Christmas Sweaters.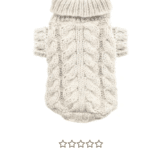 Now, if you don't want your dogs dressed up in Christmas sweaters, there are knitted sweaters as well. If you live in a cold climate, you know I'm a huge advocate for warm dog clothes to protect them! Check out this article here for more information on warm clothing and protection.
There are a ton of options available at Bitch New York that you can choose from, 17 pages of sweaters! The cost is about the same, around $45 per sweater, but for quality, that's a great price.
Clothes that have cost me only $20 in the past haven't lasted long, and the seams start to thread out, so holes develop along the sides or neck line.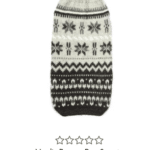 *Disclaimer – I've yet to have clothes fall apart from Bitch New York and I've washed them several times.
What Are You Waiting For?
Go ahead and order your sweaters now so that you have them for the special days coming up! If you wait too long, more people are going to jump on that idea and start ordering their clothes, and you might just miss the best and cutest being in stock.
It's like Black Friday shopping, you want to get it first before the next person does; otherwise, days later, you're kicking yourself for not just having bought it, and as time passes, it becomes later and later, and before long, it's too late.
Once you have your Christmas attire in hand, then it's time to start on the presents. I don't even want to go into that right now! My tree is always full of gifts, and some years they even overflowed into the rest of the living room!
There is a comprehensive guide written by Your Dog Advisor Staff that covers –  sweaters for your dog.  They go over how to measure, behavior's to look for as well as some shopping basics for your dog.  So whether you're new to having a dog, or you've had them for years, this is the guide you need.  Click here to read more.  
So don't wait – order here now and get 15% off today!
Please follow and like us: