Product: Kong Wild Whole Elk Antler Dog Bone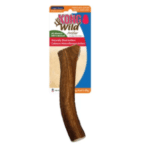 Price: $28.49 – On Sale Now
Rating: 5 out of 5 stars
Kong Wild Whole Elk Antler Dog Bone – Large
Last night, I was watching my dog chewing away at her large Elk Antler.  She looked so happy to be laying next to me, chewing away on her bone.  A lot of dog owners don't realize that dogs have to chew on things.  Why?  Because it's part of their nature and it also helps calm them down.
I've seen a lot of people with dogs that don't have enough chew toys for their dogs.   Then they wonder why their dogs chew on their furniture, their cars/trucks, their shoes.  I've always had a lot of dog toys for my dogs, especially bones and chew toys.  So, if you're wondering, Kong has been the best for my dogs.  See this article here.
I made the mistake once and only once, with my older dog that recently passed.   When she was a puppy, I didn't buy her enough bones and chew toys.  Well, one day I came home to a chewed up wall. Annie had actually chewed a hole through my dry wall.  Why?  Because she didn't have enough chew toys to keep her from getting anxious and chewing on other objects.
What Did I Do?
I decided to make a trek to the pet store and buy her some bones to chew on, and even while being gone for only 10 minutes, she chewed a hole in my carpet.
While at the pet store, I ended up buying her toys, bones, rubber ropes, etc. All kinds of things that would keep her preoccupied while I was away at work and it worked. She never chewed on my actual house again.
With this particular Kong bone, the Wild Whole Elk Antler, it's lasted my newest dog Atlas quite a while and it barely has a dent in it. I bought this while shopping at Petco and saw that it was a large antler, and thought, what the heck, I'll buy this thing for almost $30.
She couldn't even wait until we got home for me to pull it out of the package and start chewing away while in the truck. Since then, about 3 months now, she's been chewing on this thing non-stop.
I have to admit, it's a good buy and I'm glad I bought it when I did.  Now, it's not the only thing she chews on of course.   She probably has about 10 different bones that she picks from on a daily basis, but this bone has lasted.
This Bone Is Different.
I say this bone is different because Atlas doesn't seem to lose interest with it. Other bones that she's had in the past, like the ones filled with yummy treats, she simply uses her magical tongue and licks the crap out of all the stuff inside to leave a hollow shell of a bone left. I say magical because some bones are as long as my forearm and she cleans the entire middle out of it!
With this antler though, there're no treats inside, it's just a bone she can chew on that doesn't seem to lose its flavor for her. To me, finding a bone that she continues to want to chew on a regular basis and not simply discard it once all the yummy stuff is gone is important to me.
Because I've been buying her so many bones from the get-go (remember, I didn't want a repeat of Annie and my house), Atlas has only once ever chewed on the actual house.   That was because it was the first time I ever left her alone.  I still had probably 1 or 2 bones at the time for her, but not enough I guess to compete with the linoleum in my bathroom.  Yes, she chewed up my bathroom floor I'm afraid.
Now She's Set
Now, she has a ton of toys to pick and choose from and she hasn't chewed up pieces of my house anymore. So even if I have to pick up more than 10 bones a day from the floor, I'm okay with that. You might be thinking this is excessive, but it's not, I can assure you.  She actually digs through her toy box every night to find whichever bone is calling to her.  She likes to pull every single one out every night and take her pick. But more often than not, it's the antler she's choosing.
Do you need a bone that will stand the test of time with your dog?   Then get your Kong Wild Whole Elk Antler dog bone today. !  I'm not sure if it'll last your dog the same amount of months as mine has.   But, I am still very happy with my purchase and will be buying this again when she's finally chewed it up.
Please follow and like us: