Big dog clothing?  Where do you shop?  Anyone with a very big dog knows that shopping for them can be a challenge,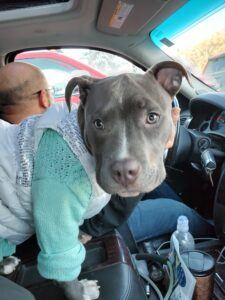 especially if you try for a local pet store and the largest size they usually have in stock is Large. Just like people, dogs come in a variety of sizes and it can be challenging when you have a canine friend that should be shopping at the Men's Big & Large store.
The good news is, there are some sites online that large dog clothing can be found. You simply have to sift through the misleading ones to find the diamonds. The purpose of this article is to help my readers know that there are places you can turn to for your big dogs and the clothing you can buy.
Why Do Dogs Need Clothing?
Some of you live in climates that are colder than others and dogs that don't have a lot of fur are prone to getting cold just like humans. I have dogs that are naked on their stomachs and taking them for walks makes them get cold. For my little dogs, their paws are more prone to getting frostbite versus my big dogs. Big dogs can go in snow without booties, but for a limited time only and only once they reach a more mature age.
In Alaska, it gets very cold so all my dogs have coats and booties. Coats can be one of the more difficult clothing items to find because they usually leave the abdomen area exposed, and my dogs need that area covered due to a lack of fur.
I also have to buy sweaters for my big dogs in case the weather gets extremely cold like in the negative numbers. I have sweaters, vests, coats, booties, and even costumes for my dogs. It all depends on the climate you live in and whether clothing is optional for your pets.
How To Know If You Need Cold Weather Clothing.
Just like the range of sizes for dogs, there's a range of fur on pets as well. If you have a dog like a Tibetan Mastiff for a friend, then clothing may not be necessary. They have an abundance of fur to protect them from certain elements like cold, so clothing would most likely just make them too hot.
If you have a large boxer, their stomachs are exposed to the elements and they definitely need a sweater and maybe even a coat depending on the climate you live in.  Say,  you live in Minnesota, it gets extremely cold there, so booties, sweaters and coats should be a necessity when you take your furry friend outside.
If you live in a warm climate, then clothing is completely optional and T-Shirts may be the way to go if you're simply dressing them up to take them for a car ride of a walk in the park. You might even be looking for clothing for the holidays, like Halloween, just to take them Trick-or-Treating with your family.
Quality Clothing For Your Large Canine Friend.
So many websites advertise quality clothing, but we all know that our pets can be worse on their clothes than kids. Dogs play rough, they run, they roll around in the grass, dirt, rain and snow and clothing that's cheap and rips easily can just be frustrating. Clothing that is inexpensive can end up being more costly after a couple of weeks because you wind up having to buy clothes over and over again.
So how do you know whether clothes are quality versus cheap? One thing I always do is extensive research into other buyers reviews. I don't look for the good reviews, I actually scroll to the negative reviews and go from there. A lot of buyers will have comments like, "Fit well, love it.".  Also, I look for reviews that buyers have posted about the clothing they bought after a few weeks of the purchase date. This allows the buyer to have actually tried the clothing on their big dog so I can ascertain whether I think it's quality.
Best Clothing Options For Big Dogs.
Booties – the best are the ones with a velcro enclosures that fit around the legs.
Socks – Depending on how cold it gets where you live, socks under the booties may also be necessary. I buy infants socks for under the booties.
Sweaters bought either on Amazon, Bigdog-boutique and even E-Bay.
Vests – I actually shop human vests for my big dogs and run the zipper up their backs.
Coats – As stated above, coats usually leave the stomach exposed, so pairing with a sweater may be necessary.
If Clothing Is Too Hard To Find – Where Else Can You Go?
For those of you that have had a hard time finding the right clothes, or even good clothes that last for your big dogs, there is one other option for you that is normally a secret of mine. I have a furry friend that makes it difficult to fit her in clothes because of how stocky she is. Because of her wider body, I shop at Value Village for her specifically and buy her human clothes. Do I have to make alterations? Of course. The sleeves are always too long on the sweaters, but the length is almost always perfect in the abdominal area so I don't have to worry about her stomach being exposed in the harsh Alaskan winters.
Human clothing for my big dog is perfect, especially with the vests that I buy her. If it's a very cold day here, usually -20 F, then a sweater with a vest over is perfect for her if she's only going for a car ride. A walk in the park requires socks, booties a sweater and a coat. Unfortunately, human coats don't work well for dogs I'm afraid, so that is something that you should have on hand for cold climates.
For big dogs, there's a plethora of online sites you can shop from. Simply read the reviews, look for the negative reviews and look for ones that the buyers have had the clothes for a few weeks first. Amazon, E-Bay and other sites have decent clothes, you just have to sift for the good ones. In the end, human clothes work well – you just have to make adjustments to the length of the sleeves for most dogs (unless your dog has very long legs, then you may not need to adjust at all).
Please follow and like us: