As mentioned in previous articles, I have a small Chihuahua that I dress in clothes for a variety of reasons.  First, she's just fun to dress up in XX small dog clothing.  Second, she loves the attention.  Third, she gets cold extremely fast, so coats and sweaters are a must for her.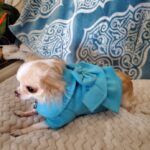 My small Chihuahua isn't nearly as hard to shop for as my 50 lbs Bulldog.  My Bulldog is a very large dog in a small body since she's the pocket of the breed.  I'm usually shopping at human clothing stores more often than not for her sweaters and vests.
Buttons on the other hand, I buy the XX small dog clothing for her from a variety of places.  Petco, PetSmart, Pet Zoo, Amazon, E-Bay, etc.  All the normal pet places almost always have small dogs clothing in stock so it's not hard to find.
What Are Some Of Her Common Outfits?
Buttons has tutu outfits, coats, sweaters, and even really tiny booties that she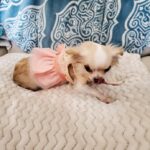 usually bites off.  The booties typically don't work for her; she hates them in all honesty.  Since she's a girl, I'm all about putting her in girls clothes so that people don't ask if it's a girl.
I also like to put little barrettes in her fur since she has long enough fur for me to do this and she doesn't hate these like the booties.
She also has Halloween costumes as well as Christmas clothing so that she's always dressed for the occasion.
Where Do I Buy Clothing?
As mentioned above, for the XX small dog clothing, I shop at my local pet stores more often than not.  I can often find her outfits in clearance sections of any pet store, especially if it's the older line of clothes that they're pushing out for newer items.
Every once in a while I'll find something on Amazon, but I don't have a hard time locally and I'm usually already at the pet store to buy them food, so I'll poke around then.
What Does She Like?
Buttons loves coats more than anything.  She's always cold and shaking, so she likes to be kept warm with her coats.  She has a light blue petticoat that's one of her favorites to wear, so she goes out often in this.
In the summer, she likes her dresses, especially when it's hot outside.  In our winters in Alaska, they're often very cold, but the summers can get very hot.  I don't want my dogs to overheat, so I tend to stay away from too many clothes in the summer months.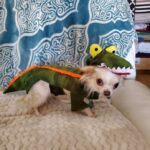 During Halloween, she likes her costumes as well.  Often, she goes Trick-Or-Treating with us depending on the weather, so she loves going with the kids and getting out of the house.
Other Accessories For Small Dogs
I have numerous collars and hair accessories for her, only because she is the only long hair dog we have.  Our other dogs are short hair, so fur accessories are a no go for them.
She doesn't fuss over her barretts, so I'll use those or a bandana in the summer and she usually will prance around when I put those on her.
Final Thoughts on XX Small Dog Clothes
If you have a small dog, usually that would be under 5 lbs, have fun with dressing them up.  You don't have to have a lot of money to make them cute for a day out with you.  Look for clearance items, or shop online for good deals.
Just have fun with your furry friend and make them feel like part of the family.  After all, we like to dress up; you'd be surprised that some dogs feel the same way.
Please follow and like us: