Product: Box Dog – Toys, Clothing, Collars and Treats All In One
Price: Monthly $29.99 or Quarterly for large dogs $39.99 or $44.99 for the Grain Free Option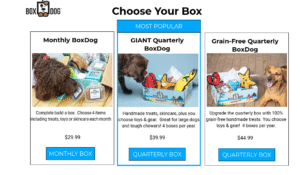 Available for all dog sizes
Rating: 5 out of 5 stars
Why Box Dog?
Nowadays, more people are opting for surprises that come in the mail on a monthly subscription basis. It's like a gift every month that you can open, and you might not know what's inside! I have quite a few friends and relatives that get boxes shipped to them every month – one has makeup shipped to her every month and when that box arrives, it's like Christmas for her. I have another relative that orders a monthly box subscription with men's care products, and he loves being able to open those every month.
Box Dog does the same thing, only for dogs. Every month or every quarter, you can choose what will go in that box for your dog. They have treats, toys and clothes that you can choose from. I order the quarterly box since I like the big toys that come with it every few months for Atlas, and she enjoys being able to open those boxes when they come in.
What's Included In Box Dog?
As mentioned above, you can choose what comes in the box for your dog. There is a selection of toys to choose from, clothing, and treats. If you want a more natural or organic selection of treats, you can opt for a slightly different price range for the quarterly boxes, but I just get the regular treats since my dogs seem to enjoy them.
Every month or quarter, there are different toys and clothing options to choose from for your dog. It's not limited to just what you see on the site when you first order. As for the toys, they're good quality toys that Atlas hasn't destroyed yet – I'm sure that's coming though. Overall, if I buy toys for her from the store locally, I spend about $19.99 per toy, so I opt for 2 toys and that pays for the box itself every time. I look at the treats as a bonus extra that I get for free.
Choose The Plan That's Right For You.
There's three options to choose from when it comes to Box Dog. The monthly subscription comes with 4 items that you can choose for your box that range from toys to clothing to treats. I don't subscribe to the monthly myself because the toys are smaller and I like the quarterly option box that comes with larger toys for Atlas.
The quarterly option, you can choose three items that come in the box, again, toys, clothing and treats. I like this one because the toys are larger sized and even though I'm getting one less item, it works for my dog because they're larger toys she won't destroy or eat. The smaller ones tend to disappear rather quickly.
Lastly, there's the Grain Free quarterly box. This box has larger toys that you can choose from similar to the first quarterly box as mentioned as well as grain free treats that come with it. For me, I don't opt for this one as it seems it comes with less than the first option. I go with the basic quarterly and it seems to be a good deal for us as it would cost more at the pet store for two toys and treats.
Where To Order Them From.
Boxdog.com is where I order my boxes from. I've included the link for you here so you can click on it and choose the best option for your pet. Overall, the products are quality products that I've been getting so far.  I've only gotten two boxes since subscribing, but I'm happy with the toys and treats. I haven't tried the clothing yet, but that will be next.
Check them out and see what you think – visit Box Dog here in the link provided. Your dog will be happy to open their gift!
Please follow and like us: