Recently, I published an article about choosing the right collar for your dogs, but I focused on the larger dog breeds versus the smaller dog breeds.  Buttons, my XX Small Chihuahua that weighs 2.5 lbs wet, has a small collar with a bow on it. Small dogs don't have the same requirements as large dogs and Buttons is no exception.  So, I'm here to tell you about the cute collars for XX Small dogs that I've found.
Large dogs need larger, more durable collars. The difference? Taking a 120 lb dog for a walk versus a 2 lb dog. The large dog is going to pull, and while your small dog will attempt to pull as well, it's a feather pulling versus a person pulling.
So where do I go for cute collars for xx small dogs? Easy – Bitch New York!
Collar Options for your Small Dogs.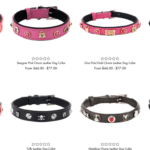 Bitch New York has so many collars for small dogs, there are literally 2077 collar options for small dogs. The collars that you can order from this site range of course. They have:
Beaded
Big Dog
Crystal
Fabric/Ribbon
Faux Leather
Leather
Martingale
Personalized
Rope
Studded
Teacup
Webbing
So many to choose from! I actually love the Teacup collars they have since that's where I got Button's collar from. It fits perfect and she's had this collar for quite some time.
It's made with quality materials, as is all their items, and it's cute to boot.
Ribbons and Bows – Oh My.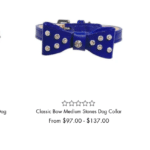 If you have a very small dog and you've been looking for the perfect collars, then you're reading the right article. Most local pet stores don't have a large variety of XX Small collars. The same goes for the very large breeds of dogs, the inventory is just limited.
I don't know how many times I've been to Pet Smart or Petco looking for those super cute collars for Buttons, only to be disappointed on the selection. I don't want Buttons to wear the same collar that I've put on my Pocket Bully.
First off, the collar that Atlas wears is 2 inches thick and has Goddess-like emblems all over it. This looks great on a dog that stands only 16″ from her withers, but would look silly on my dog that's no bigger than my remote control to my TV.
The Cost is Slightly Higher.
Some of the collars are more expensive than you would get from a local pet store, but you know what? You're paying for quality. If you care about your dog and how cute they look walking out of the house with you, then you don't balk at the $21 and up price tag. Yes, the one I bought Buttons was actually $76, but it's the best collar I found for her!
Many of the collars featured on this site are handmade, so you're getting quality craftsmanship. I ordered Atlas' collar from a place that was also hand crafted and it cost me $275 USD. I had absolutely no issues buying this because I knew I was getting a quality collar for my dog that will last a lifetime.
Quality Means Life.
Buying quality materials means the difference between buying a crappy $10 collar from a pet store that falls apart within a matter of days, versus buying a good collar made with real leather that lasts 10 years. I mean, I do change mine up since she is a little fashionista, but that's just in my home.
Not everyone will change up their dog's look like I do, but I like to change up her appearance every now and then. She's family, so she's worth it to me.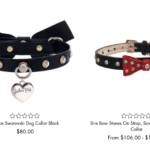 Ensuring that the collar you're buying is quality, means looking at the materials that that collar is made from. Do some digging, especially if you don't buy from a reputable source such as Bitch New York.
The Cuteness is Too Much!
Once you've picked out your cute collar, getting it in the mail is such a Christmas Day Present! I remember opening up that package and my making my "Awe Cute" face! My dogs all sensed this and came running to see what came in the mail. Buttons pranced over, sniffed at the collar and did a little paw dance.
Just like we get excited to get new items, dogs do too. They get excited to see what came in the mail – what gifts are in that smell-good box. Buttons is a very smart dog, so of course knew it was for her!
Next on the list – a super cute leash to go with. I will admit, I didn't buy one at the time, I have a hot pink leash that's tiny and light weight just for her, but seeing the leashes and collar combinations, one is in the cart!
What are you waiting for? Buy one today and save 15%! Click this link and sign up on the email list to get your coupon.
Please follow and like us: