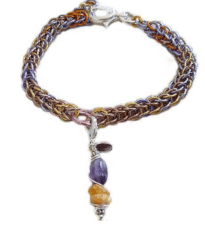 Product: Dog Chain, several varieties
Price: Ranges with Style – $20 and up
Rating: Ranges with Vendor/Retailer
Where To Buy: Bitch New York, Petco (occasionally), Etsy and Many Others.
Dog Chain – What Is It?
Dog chain can have a lot of meanings and vary with different products. Some retailers refer to dog chains as a form of collar for dogs. Others have started to come out with the jewelry version of dog chains. Others use this term as the chain used to tie a dog up.
Depending on the individual that is purchasing the dog chain, you can view as a specific product. However, lately, I've seen dog chains as a type of necklace for dogs. This is going to be the main purpose of this article today. Why are we, as dog owners, buying necklaces for our dogs?
Dog Necklace – The Dog Chain.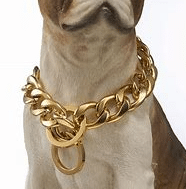 I see a lot of pet owners buying gold chains for their dogs. Especially on the Bully Breeds. And, I get why they do it. The dogs look pretty cool with a big chain around their neck. It seems to accentuate the bulkiness of their body build. They also tend to look more burly with a fat gold chain around them.
As for my Atlas, she's a female. I don't necessarily want her to look more masculine than she already does. In the stores, she gets easily confused as a boy. But, I don't put enough pink on her, and blue seems to be my go to color for her. Not a dark masculine blue, I'm referring to the turquoise color.
As far as a necklace is concerned, I could see putting her in one that looks more feminine. People would stop confusing her for a boy if she had a pretty necklace on.
Wearing the Necklace all the Time?
Asking myself this, would I leave the necklace on her all the time? Probably not. In fact, no, I wouldn't. But it depends on the material and whether it snags her fur. When I think of gold chains, I think of snagging the hairs on my head. I'm sure that the dog necklaces don't do this, at least I hope they don't. But, I would have to wait and see once it came in.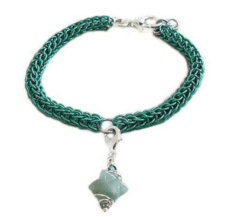 Leaving any sort of jewelry on a dog all the time seems like it might be damaging to her skin. Atlas has sensitive skin already. So, I'd imagine only putting it on when we leave the house. The aspect of her trying to play with it is another concern. Would she pull at it if it moved around?
When she was a pup, I found a collar charm that had two parts to it. One part said Best, the other part said Friend. I bought this two-piece charm set for her and her brother. Her brother is right down the street, so it was fitting. The part that I gave Atlas was a tassel charm. However, when I put it on her, she kept trying to eat it. She still does this to this day.
Any necklace that I buy her would need to be more of a snug fit. This way, she doesn't think it's a toy hanging around her neck and she tries to pull it off. She doesn't do this to her collar, so she's not opposed to collars. But, if I spend close to $100 on a necklace for my dog, I don't want her breaking it.
Other Retailers Average Costs.
I've seen a lot of these dog chains around online. There's a new place that's been all over my Facebook lately. Their dog chains look pretty nice, I will say. I haven't poked around at the cost yet, so I can't attest to that yet. However, I've seen some that are as low as $20 from other retailers.
Something that cheap though, screams, cheap. Meaning, breaks easily, looks tacky, fake gold, etc. I don't buy costume jewelry for myself, so I doubt I would for Atlas. On the opposite side though, I don't want to buy a real gold necklace either. She is my dog after all. She means the world to me, but she also plays very rough. It's like she would need a steel necklace or titanium!
How about you as my readers? Have you bought a chain for your dog? How is it? How's the quality? Does your dog like it? Where did you buy it?
Please follow and like us: