Have you been looking for that large dog hoodie?  My dog Atlas is very hard to shop for.   I've had a hard time finding her large dog hoodies and in the past I've had to resort to shopping at human clothing stores.  In looking online for more sources of dog clothing, I discovered a new site called Bitch New York.
I looked through their catalog and was very impressed by the amount of clothing available to dogs of all sizes.  We know that I have dogs of all sizes.  So much so, that people often giggle at the large dog versus my small 2.5 lb Chihuahua.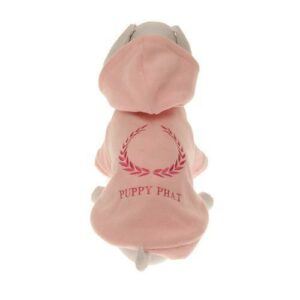 Large Dog Clothing Isn't As Cute As Small Dog Clothing.
When you're out shopping for your pets, especially at local venues, we often think that the large dogs are left out when it comes to the cute clothing that we see in size XXS.   I used to think this myself, especially since the local pet stores don't carry a lot of the very large sizes.  Not because they don't want to, but more because of the lack of space on the racks for them to have the space available.  Face it, small dog clothing takes up much less space on the shelves.
A lot of online retailers will have cute clothing for dogs of all sizes.  I mentioned Amazon in my article yesterday.  However, Amazon is down right now due to COVID-19.   They're only shipping household necessities to homes until the stores are more able to replenish their inventory of toilet paper and hand sanitizer.   Due to this, some of you may be having a hard time getting hoodies for your furry friends to take them on the walks they need right now.
Clothing Quality Deteriorates With Larger Sizes.
Definitely a misconception.  Clothing in general for people doesn't deteriorate with size, and finding quality clothing for your larger dogs is the same as humans.  You simply have to look in the right places in order to get the quality items.  It's like my dog collars post yesterday. Doing your due diligence in finding quality items is very important.  It's the same with their clothing.
A lot of retailers online will have reviews of the clothing that other buyers have purchased.  I always look to those to determine what will be good for my dogs before purchasing.  Some items will be too new to have reviews, kind of like the hoodie that I found for Atlas that I'm ordering for her today.  I did look on the website, Bitch New York, for other clothing in order to determine the quality from the company itself though.  They have gotten quite a bit of good reviews on their site, and that's something I look for.
Most Websites Don't Have Large Dog Hoodies.
There are quite a few websites out there that offer a large variety of pet clothing in the smaller range of sizes, yes.   There are some that I've found however, that offer the bigger sizes.  As mentioned, Bitch New York has the large dog sizes available and I was very pleased with the variety of options available.   We know that all dogs come in different sizes just like humans, so why would their options be limited?   We can't expect that all people will fit a size medium because that's unrealistic.   That's why I've done a lot of the research for my readers, so that you know where to go.
So, what is available on this new site that I've found?  They have everything available for your pets similar to Amazon or Petco.  Here are just a few of the options available:
Clothing
Collars
Carriers
Toys
Beds
Bowls
Accessories
Treats
Etc.
I believe this site may have become my new favorite place to shop for my dogs.   Once I get in the hoodie I ordered for Atlas, I can tell my readers about the quality of the item.   As mentioned, quality is very important to me and my pets and the one thing I can't stand is clothing that falls apart after one wash cycle.
Is Online Shopping Really The Best Option?
Some of you are from the big cities with more options than what I have available here in Alaska.  Where I live, we only have three pet stores that have options for us pet owners, so online has been my go to place for some time.  Even shopping for myself and my kids.   I often have to shop online simply because we don't have outlet stores available to us here and we're limited to a small variety of shopping centers.   Even our malls are lacking in variety, so many of us go online.
Online shopping can be easier than going to a local store.   You can shop from the comfort of your home, from work on your lunch break or even a smoke break, etc.  There are so many pros to shopping online that I can't list them all in one article.  Many of us have very busy lives now between work and the current pandemic many face with COVID-19 being as prevalent as it is.  For many of you, you may have been confined to your homes and now online seems like the only avenue you can take.  Should your pets be neglected for their walks because you're confined?  Or their toys needing to be replenished versus chewing up your couch?  No.  Online can be a saving grace for many of us, and that's why I'm always looking for new sites to shop from.
Online Shopping – It's The Future.
I've mentioned all the pros to shopping online.  I've also been mentioning some cons from experiences where the retailer doesn't allow for returns.   When I shop from a site I look for the ability to send an item back even if it's only for store credit. At least I know that my money will go towards the purchase of something else and I didn't simply burn my money on something that I can't use.
Our pets are our friends, and they definitely need to be taken care of even during times of hardship.  As mentioned previously, not all large dog clothing is expensive, but some more quality items will cost more than cheap items.  Look for quality over quantity if you're finding the items are too expensive.  If you live in a warm climate, your dog is okay, but in cold climates, hoodies are needed.
Hopefully, I've done most of the work for you and you enjoy the options I'm trying to help others with.  Sometimes, it's difficult to know what to buy and only others' reviews may be your deciding factor.
If any of my readers have questions or need help on where I've shopped personally, leave me a comment and I will always help out!  I will also keep you posted on the quality from Bitch New York!
Thank you for reading!
Please follow and like us: