It's that time of year now when we can dress our dogs up in dog dresses! Put those coats and booties away until next winter folks! I have to say, I've been sent some pretty cute looking dresses just in time, too. From yours truly, Bitch New York.
Their new Spring line up is just what my furry ladies need to strut around and look their finest. The Sun is out, the weather is warm. Flowers are blooming everywhere and my dogs will have dresses to match.
So, let's get to it, shall we?
The Email Came!
I got an email from Bitch New York just last night. When I opened the email, what did I see? Not only some cute new accessories that are just to die for, but dresses to boot. It might be silly that I get so excited over dog dresses, but hey, I'm a fashionista! Nothing brings more joy to me than knowing my dogs are well taken care of.
I know, I know, you might be thinking, "What?" That's right, I love to dress my dogs up. They love it too. Not only do they get all that attention when we go out, but they get lots of treats too! Wouldn't you love to get more treats just by looking cute walking out of your house?
So, what's new at BNY these days?
The New Spring Lineup.
From accessories to dresses, they have it all. I love the Fairy Horses Dog Dress for $81. Designed as a masterpiece, all in different materials. Each dress is handmade by the designer, so will vary from dress to dress. Don't you just love the bow on the skirt?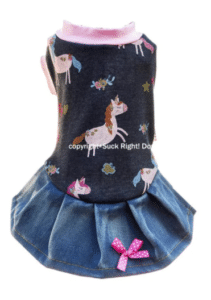 Then we have the Panda Dog Dress for only $72! This dress is made meticulously from different fabrics. You can see the use of Tule as well as cotton. I just love this Tutu style dress!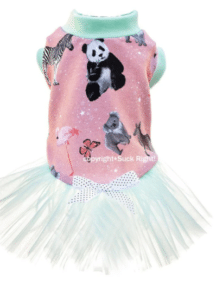 Knitted Elegant Dog Dress for $76! The classic look of black and white in this checkered pattern. Not only will your doggo look fantastic walking around town with this dress on, but she'll match any accessory! The large bow on the shirt is just too cute!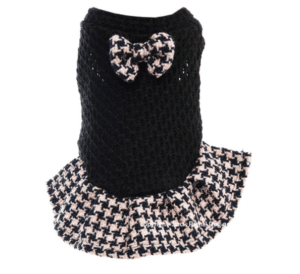 Magical Pony Dog Dress is one of my faves! The stars, the large format unicorn that is raised up in design. Match this with any pink collar, leash and bow in her hair! She'll be the talk of the town no matter where you're going! Only $107 at BNY.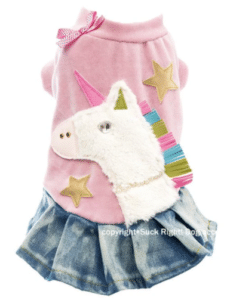 The Teddy Bear Dog Dress only $114 is so adorable! The classic black bow decorating the skirt. Don't forget the too cute Teddy Bear also raised up like the Unicorn on the Magical Pony Dress. I just love this one!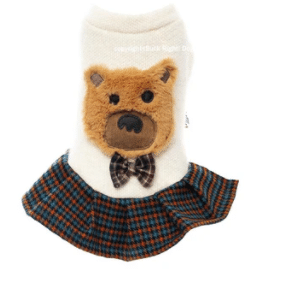 Toucan Dog Dress for $116. Also similar in design to the Teddy Bear and Magical Pony, but this one has a tropical design! Perfect for those beach days. Don't you just love the little red balls adorning the skirt?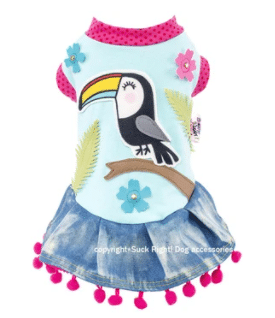 More Spring Dog Dresses!
Next we have the Ice Cream Ballerina Dog Dress at $90. I would love to walk into ice cream shop with my furry gal in tow wearing this. She would have to have an ice cream as a special treat! I love the Tutu style of this one as well!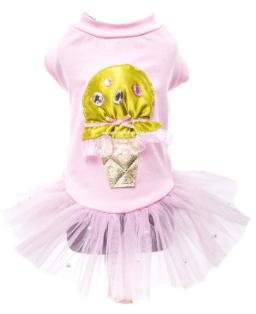 Lux Doggo Dog Dress at only $120. This one is also a fave! Look at the cute designs and let's not forget the Chanel! The purse and bow are perfect for this dress in every way!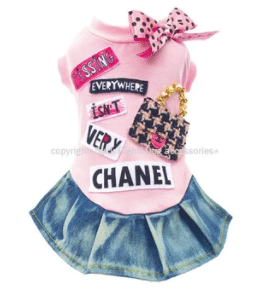 Pin up Star Dog Dress is $130. Loving the polka dots on this one. Polka dots are some of my favorite designs in the summer. Imagine, you're wearing a black and white polka dot dress to match your furry lady! Wouldn't that be a dream?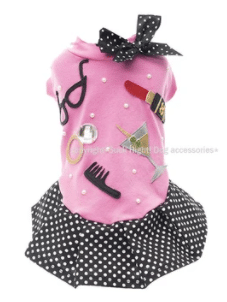 Candy Shop Dog Dress $109. I just love all the adornments on this one. What a sweet treat for your little lady to strut around in this fabulous getup? Loving this one as well!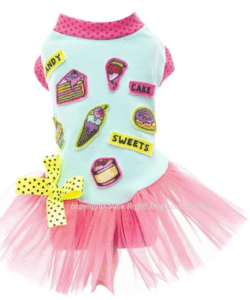 More Dresses?
Marie Antoinette herself would have to have this next one! Exclusive Marie Antoinette Dog Dress for $130. Perfect Tutu and design. I absolutely love this one too!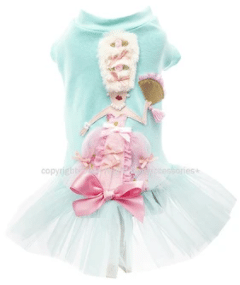 Live in Hawaii? Or near any beach for that matter? Then you need the Hawaii Dog Dress for $91! The Tutu design, the bow and the beautiful flowers? Yes, please!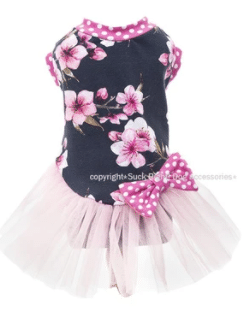 Did I mention how much I just love polka dots? Well, love them some more with this Petit French Chic Dog Dress for only $118! The glasses, the purse and the heels to match? Spectacular!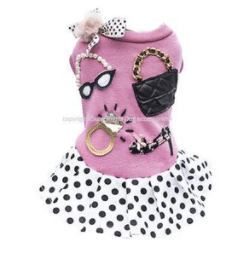 Or maybe you love the Fashion Victim Dog Dress? With the lipstick adding some beautiful color and that fabulousness to this dress, I would get this one for $118! Love it!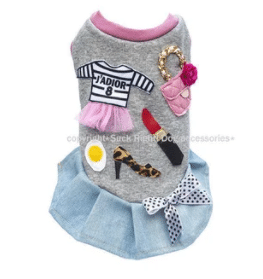 And if you think those other ones were a little pricey, maybe the Pink Rabbit Bow Dog Dress is more in your budget. With the Tutu design and oh so cute rabbit on this one, it's only $57. Don't worry, your furry gal can look super chic on a budget!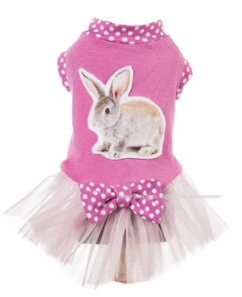 The Dog Dresses Are Endless!
So many adorable dog dresses to choose from this time of year! I just love the selection that BNY always has. There's so many to choose from, your furry lady can be as fashionable as you! Just remember, they love the attention, so get them something nice! It'll always get her more treats when she's out with you.
My beautiful furry ladies always have a selection when it comes to their outfits. Atlas will even dig to find the outfit she wants to wear that day! Let your lady pick her clothes. She'll just love that she can do that!
Also, don't worry if she decides to be playful that day and get some dirt on her new dress. All the dresses are washer machine friendly. I personally don't dry them, I always hang them to dry. Especially with the Tutu styles, I don't like the ruffles getting messed up.
So, jump on their site and get yours today!
Final Words on Dog Dresses.
As the options are endless, so are the possibilities! Our furry friends deserve the best when it comes to the love and attention they get! I know my furry ladies are always so excited to leave, especially with their dresses on. They prance around, waiting for everyone to say, "Oh my God, how cute! Can I pet her?" Uh, yeah! She loves it!
The big smiles, the tail wagging, the dancing feet. How could I not put them in dresses when they get so much attention? Everyone just loves them, and how can you not? They're too cute in their little dresses.
Plus, if you're new to BNY, you get 15% off just by entering in your email. Then, before you know it, you'll be getting their fantastic lineups like me every season. I always look forward to their new arrivals, and this time, they didn't let me down! Or, my doggos I should say!
So, click on any of the above dresses and get yours today! Don't forget to post pictures for all of us to see!
Please follow and like us: