We recently added another member to our pack family, Muse. And, because of this, we've lost some space on our bed. My husband is quite displeased with this part of adding a new member to the family. Me? It's like sleeping in a big puppy pile. However, for those that don't wish to do this, then adding dog furniture to your home will make sleep easier.
Now, you might be asking, what is dog furniture? Why would I need this? Well, having a nice dog couch at the foot of your bed will ensure that your dog wants to sleep on it. How do I know this? Well, look at it! I want to lay on it! And I have a big bed to lay on. But, this wouldn't stop me from laying down and relaxing on these couches and beds.
So, let's get to it! First, the couch! Next, the Chaise! After that, a bed to match yours? And finally, modern to match your modern!
The Dog Couch – The Settee.
In shopping for something for my dogs, I came across several new items on my fave site, Bitch New York. The first item that I fell in love with is the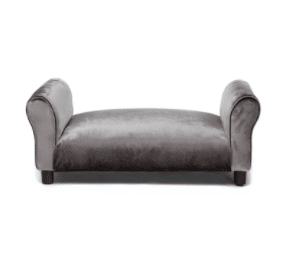 dog couch. While it's not exactly a couch, it definitely resembles one in its design. But, if I want to call it by its specific name, I would call it the Settee. As far as dog furniture goes, this is fantastic!
Several colors and designs to choose from, it's actually reasonably priced. Ranging from $215 to $281, your dog will love the comfort of this Settee. Not only that, but it will go with any decor you've featured in your room. So, instead of those awful dog beds that just sit on the floor, your dog will love this. Mimicking a Settee one would normally have at the foot of their bed as a seated area to get ready, this will fit right in.
No more stuffed cushions just sitting on the floor for your dogs. Now, if the Settee isn't your style, what about the Chaise?
Chaise Lounger? Yes, Please!
I don't know who doesn't love Chaise Loungers? I absolutely love them! And while they're normally huge and take up quite a bit of space, this one for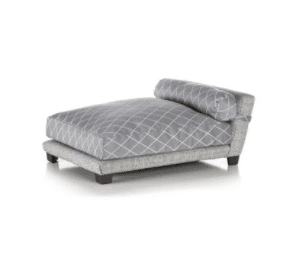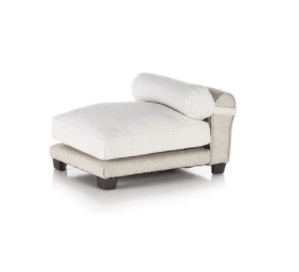 your dog will fit right in in your bedroom! Or, in the living room if you need a couple! Maybe you just bought a new couch, and you don't want to risk it getting dirty. Add this decor to your living room and your bedroom for your furry baby.
Ranging in color schemes to match any bedroom theme, these Chaise Loungers are it! Price-wise, they're actually very well priced, and much less than a typical Chaise you buy from any furniture outlet. In the $200 price range, anyone can afford that for their room and living room. Personally, I love the metal/Grey one with the white lines. It would match my wall colors perfectly!
What about a matching bed for them that matches your bed? Crazy idea? Nope!
A Matching Bed to Yours!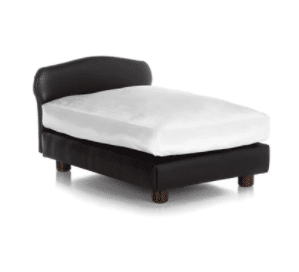 Imagine, in the corner of your room, next to your bed, your dogs bed matches yours. With the mid-century dog beds, you're sure to find any style to match your decor. From white/pink to black/Grey, there are several to choose from. Personally, I love the shaggy style bed to be honest. I could see myself curling up next to Atlas and snoozing away.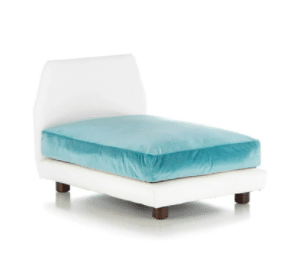 They're also small enough that if you don't want it in the corner, you can even put it next to your bed, or at the foot of the bed. However you feel it would best suit your bedroom's style and space. No more sleeping on your bed, because now they would have their own! I know my dogs would sleep on these comfortable beds more than they would sleep on mine. Plus, I would place it next to my bed so they're still close! I have to be close to my doggos, they're family!
So, we've covered couches, or Settees, Chaise Loungers and now a dog bed with a headboard. But, what if your decor is slightly  more modern? Well, they have those too!
The Modern Dog Furniture.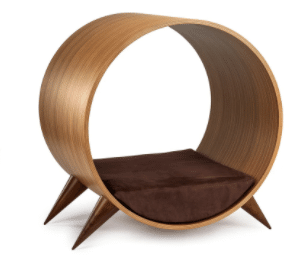 I'm really excited about this last style, I must say! I have never seen the likes of this dog furniture, but I'm getting prices! The luxury style wood, the beautifully covered beds. All are must haves! And if you thought that dog furniture was bland, think again!
Hand crafted, steam-bent, Zebrawood give this bed an elegant style for any room. Made to order and customized, you can even have the legs made with hand-set stones. The legs are made from olive/Italian walnut, so a gorgeous balance to the delicacy of this piece.
And, in case you're wondering, yes, the bed cushion is removable for easy washing. It simply buttons back into place when it's done!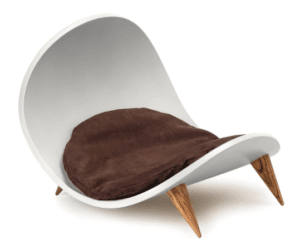 Not a fan of the wood, and you love white? How about the Verona Dog Bed then instead? Hand-crafted steam-bent plywood, but sanded to a refined finish and then painted with a glossy white, this would match any ones decor! You can have this one set with stones or ornaments as well.
You simply specify your preferences when you order.
Final Thoughts on Dog Furniture.
We've covered quite a bit in the area of dog furniture. From beds that match your current decor, to the modern beds of today. I'm having a hard time deciding which I love the most, but I still think I absolutely love the Chaise for my living room, and the Settee for the foot of my bed.
Instead of an ugly cushion just lying like a limp noodle on my floor, my dogs can sleep in style and comfort. Besides, I've always hated those dog beds that look like a cushion, just out of place. It's like taking a pillow and throwing it on the floor beside my bed. When my home looks nice, I feel good. Not because I need more material objects. Simply because, if my home is in disorder, it makes me feel anxious.
Like clothing in a basket that needs to be put away. Always staring at me. Pleading, "Put me away!" Ugly dog beds are like this. Just, there. Looking sad and sorry. Well, no more. I'd much rather have a beautiful piece of dog furniture any day!
Which one is your favorite? Did you order one? Did you know that if you order today, you save 15% off? That's a great deal, especially on the Chaise Loungers!
Please follow and like us: