If you've been reading my articles for a little while, then you probably know my stand on dogs and sweaters already, but in case this is the first time you're reading from my site, I want to go into a few details about how I feel about dog sweaters and their basic needs.
First, I live in Alaska and up here, the weather gets extremely cold in the winter and even in the fall time when the air starts to turn crisp, the leaves start to brown, and the grass gets this crunch to it that screams winter is coming to us.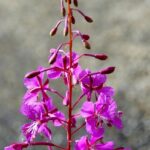 The Fireweed flowers up here have lost their blooms for the most part, and this means cold is coming. We can start to feel it in the mornings when we first wake up and step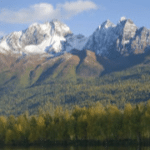 outside to feel a crisp in the air that we all recognize. I'm also watching the mountains daily for the termination dust that will slowly crawl down the mountain and once it's close to the bottom, that means snow is here.
With this – the cold. It gets very cold up here, and my dogs need protection.
Dogs That Need Sweaters.
Short haired dogs like mine are naked on their bellies, so they have nothing to protect that naked skin from the snow and the cold that comes. Within minutes of stepping outside, you can watch them start to shiver, and just touching their stomachs, you can feel the cold that already seeped into their skin.
My small dogs shiver as well because their body weight is so minimal that they can't keep themselves warm. It's necessary for them to be protected in the cold.
True story – Every year that I let my smallest Chihuahua out to use the bathroom and it's less than 5 degrees outside, she starts to freeze up. I'm not going to lie, she takes a really long time to go number two (poor dog), so when it's super cold out, her feet freeze up, and she drops to her side in the snow, feet sticking straight up into the air. This is when I have to go rescue her. Note – I never let my dogs outside by themselves when it's super cold up here in the winter. It's just too dangerous. Imagine if I wasn't standing there to rescue her – too scary to think about, honestly.
Should Your Dog Wear a Sweater?
I was reading some great information today that I wanted to share with my readers, and it's a very detailed guide on fitting your dog for a sweater. They also go into how some dogs won't want to wear them – totally understandable. Just like with humans, we don't always want to wear a gift someone buys us, especially if it'a holiday sweater that we're not really big fans of. Think, Harry Potter!
Dogs are the same and all have personalities. We should respect that and know when enough is enough. My dog Harry hates clothing – I don't force him into clothes. Does he get to leave the house when it's negative 5 degrees outside, or colder – heck, it gets to negative 30 here! That's right, -30 degrees F. Brrr. He stays home.
So, check out this article that I found – I just love it! Best Dog Sweater by Your Dog Advisor Staff.
Holidays are Coming.
With the cold up here, comes the holidays. I actually love the holiday season and everything that comes with it! Halloween, Thanksgiving and I especially love Christmas! The songs, the movies, the cozy sweaters, boots, the fact that I get to dress bulky and not in tanks and shorts! Eek!
I have a closet full of cozy sweaters that I love bringing out in the winter months. And yes, my dogs do too! Buttons in her little petticoats and Atlas in her sweaters and thick vest – my dogs are too cute. Both my females love the sweater season like I do, so when I pull their tote out that has all their clothing in it, they come running and sniffing at it to see what I'm putting on them today.
Dog costumes and holiday sweaters, they love them all. Not Harry; the females. Harry has costumes, I will admit, but those were bought by my oldest daughter that thought it was cute to put him in Superman costumes, Hulk costumes and even Strong Man costumes. She videoed him like crazy and the poor guy just looked dejected the entire time.
For some super cute Holiday sweaters, check out this article I wrote not long ago.  Too cute!
Coats and Other Necessities.
Sweaters aren't the only clothing essentials dogs need in cold weather. They need coats as well depending on how cold it gets. When it's -20 up here, especially in November, January and February, my dogs have to have super puffy, thick coats on. Booties are needed as well, since I just found out that dogs lose heat through their feet just like humans do. I did not know that until yesterday. I do know that their feet get frostbite easily, so I always have booties on hand.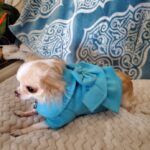 When my dog Buttons throws her feet in the air, not only is her entire body now encased in snow, but her feet are frozen. It usually takes some TLC to get her warm again in very quick time. Thankfully, this doesn't happen often, but when it does, I have to put her under my shirt (brr), and hold her toes with my hands to warm them back up. In the meantime, she's shaking like a robotic toy jumping across your floor.
Final Thoughts on Sweaters & Coats.
As you can see, if you live in a cold climate like myself, dogs have to have protection. If your dog is a husky, maybe not, but my poor dogs that are naked on their stomach's, short haired all over, and two of them are only 5 lbs (Buttons is actually only 2.5lbs), then they have got to have some extra layers.
If you're new to the dog clothing world, as I mentioned above, check out this guide; I promise it will help. They do have some clothing options as well that you can choose from on their site, so that'll help to know where to start. But going over how to measure, what to look for, and how to dress them will help even the newest dog owners so that you can be sure your dog is okay if you live in the Midwest, or up North.
Florida? You don't count! Your weather is pretty much nice all the time, so you'll need the dog cooling vests instead! I'll be writing about those soon since I just discovered those! Nifty inventions!
Hope this helps my dog lovers out there. Stay protected, stay warm and enjoy the Holidays that are creeping up on us quickly.
Please follow and like us: