Some of you might be reading this and wondering, fall? Fall can't be almost here! Well, in Alaska it is. Our weather tends to turn more chilly than other states, and it's getting there about this time. We even saw a fall leaf already fall from a tree! So, what does this mean? This means, we need hoodies for dogs, of course!
In Alaska, it gets cold enough up here that all short haired dogs need something to keep them warm. I mean, if you were outside with only a thin pair of pants on and no shoes, wouldn't you be cold? Dogs need protection too, so get them some warm clothes!
Let's look at the new fall lineup, shall we?
My New Fave Hoodie!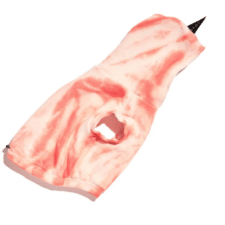 I was scrolling through my favorite site, you know the one, Bitch New York of course! During my time of looking, I found the most adorable hoodies for dogs. However, this Studio Splatter Dog Hoodie in Peach with the little unicorn horn on the hood, too cute. Could you just imagine my Atlas wearing this? She already looks like a baby Rhino, but this, this one is too cute!
Of course, it's not the right color to be a Rhino hoodie, but the fact that it has a horn on the hood is good enough for me. It's made with a french terry cloth, so that means it's oh so soft to the touch. It comes in a range of sizes, from X Small all the way to XX Large. The X Small is 8 inches long in the back and the XX Large is 22 inches.
It's only $50, which is actually a great price for something so adorable. I'm definitely ordering this today and you should too! You can get yours today by clicking here.
Next in Line for Hoodies for Dogs – The Flex Fit Hoodie!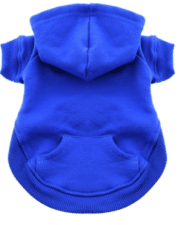 This hoodie is your more basic hoodie for dogs, but, it's super stretchy! So, dogs that are built like Atlas through the shoulders and chest won't have any issues finding their right size. It comes in a range of colors, from black to pink. This hoodie is made with human grade, high quality, thick material, that's often not seen in pet clothing. Usually, this kind of material is reserved for our thick hoodies!
This Flex Fit hoodie comes in a wide range of sizes too. From X Small, all the way to a 4XL! Wow! All dogs will be able to fit this one, so even those Dobermans that get cold in the fall and winter climates will be able to fit this one. And, the best part? It's only $31 no matter what size you order!
I don't know about you, but I need this one in my life for both Atlas and Muse. So, order yours today, and if you subscribe to BNY's page, you can save 15% off as well. That's a no-brainer! Get yours by clicking here!
The Faux Fur Hoodie in Bubble Gum.
Much like my new fave hoodie, this one is also super fuzzy and soft. The Faux Fur Hoodie though is actually lined on the inside, not just the outside with this super soft material. That means, for our more naked dogs (you know, the ones with no fur on their tummies) will love the feeling of this one on their body. It's like a soft cuddly blanket that goes where they go!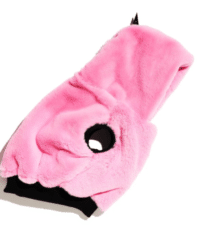 This one also comes in a range of colors, so if Bubble Gum pink isn't your thing – don't worry males – it comes in black, blue and aqua as well. This one comes in sizes that range from X Small to all the way to XX Large. Also, the prices don't change on this one either, and it's only $58!
I don't know about you, but for $58, I want one for myself. Being wrapped in a cozy blanket inside and out for those colder days, yes please! Don't forget about those senior dogs either. They always need extra warmth on colder days since their bones just hurt so much.
So, get yours today by clicking here.
Last, But Not Least – The Big Full Heart Hoodie.
This hoodie is unique, because it brings awareness to the need for animal adoptions throughout the world. Celebrate the love between you and your dog, by buying this one to show the world you found love. This hoodie comes in a variety of colors as well, but I just love the white hoodie with the black heart.
Made with 100% cotton fleece, you can actually wash this and dry this with your clothes. Did I mention that there's a matching human sweater too? That's right! You can match your dog by wearing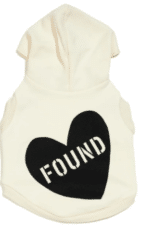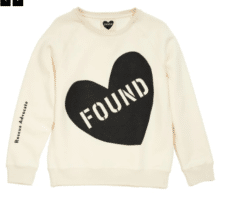 your hoodie as well. It comes in sizes that range from X Small to XX Large.
Buying these will help raise awareness for others, that the pets in shelters are pretty overloaded. I've not only bought my pets, but I've adopted on many occasions as well. I love all dogs, no matter where they came from. So, if you have a little space, think about saving a pet in need. Don't forget to purchase these hoodies as soon as possible after!.
The hoodies for dogs is only $46 and the hoodies for humans is only $66! Get the dogs here and the humans here.
Final Words on Hoodies for Dogs.
No matter where you live, fall is coming soon. I know most of you are patiently waiting for cooler weather around the corner, especially since so many states were so hot this summer. Don't fret, it'll be here sooner than you think. When it does come, at least you know your dogs will be prepared with warm clothes. Besides, aren't these hoodies just the cutest?
In the past, when I've procrastinated on getting warm clothes for my dogs, they've suffered from it. Shaking and shivering from the cold, you don't want that for your furry babies. BNY is great about getting items out within just a day or two of ordering. So, be sure to get yours today so they're here in time for that cooler weather you've been waiting for.
We're sure ready for fall leaves, warm sweaters, hot cocoa and sitting by the fire. No better place to be curled up in the house then in front of the fire with your dog curled up beside you!
Please follow and like us: