The weather in most places has been hot to say the least.  Many people are posting that they're leaving their dogs at home during the recent heat waves in so many places.  And, while leaving your dogs at home is smart, they still need exercise to keep them from chewing up your house.  So, there are some cooling options for dogs during these hot days ahead!
Now, I get leaving dogs at home when you're shopping.  Whatever you do, don't leave them in the car while you're away for any period of time.  In fact, I leave my car running if I'm running into a store and my dogs are with me.  However, I set a timer on my phone for 25 minutes which is when the car will auto shut-off.  Cars get especially hot during hot days.  It's important to know how hot they can get!  Homes, in Alaska without AC, also get hot when it reaches the 70's up here.
But, if you're taking your dogs on a walk, why not try a cooling vest for them?  If it's hot in your house, a cooling mat for their kennel?
Temperatures Soar in Vehicles.
First, let us talk about leaving your dogs in the car for a moment.  If it's a hot day outside, then your dogs shouldn't be left in the car unless you have the AC blowing for them.  I saw a post the other day about a man that broke a window to save a dog from the heat in the car.  Cars overheat very quickly in the heat of the day.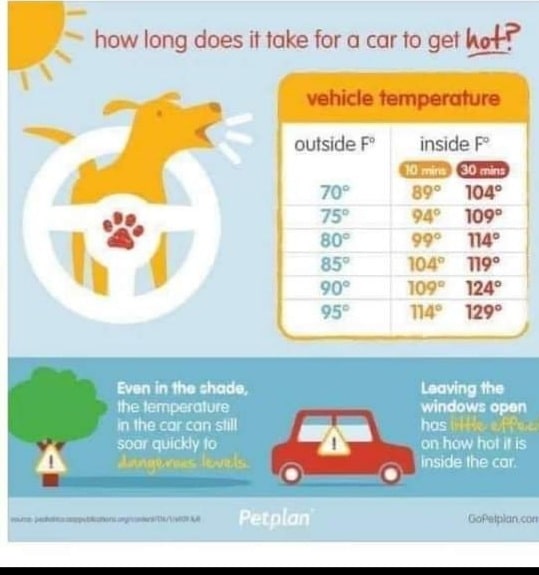 In fact, if it's 70 degrees outside, within 10 mins your inside vehicle temperature will be 89 degrees and within 30 minutes it would be 104 degrees.
For the very hot states, when it's 90 degrees outside, inside your vehicle will be 109 degrees within 10 minutes and 124 degrees within 30 minutes.
Leaving the windows open won't help either.  First, your dog wouldn't have access to fresh water.  Nor would they have access to shade if the sun is shining in your car.
So, unless you know for a fact that you can leave your AC running the entire time, yes, leave your dogs at home.
Even Homes Can Be Hot.
Now, I say leave your dogs at home, but if you don't have AC, even there it can be too hot.  What I've learned to do, is have a small kiddy pool full of cold water for my dogs on hot days.  Yes, if you leave it outside, you'll need to dump it daily and refill it with cool water.  But, it helps for them to know they have a place they can go to cool down.
However, if you've confined your dog to a kennel, be sure that the kennel doesn't get too hot for them either.  And especially don't leave them outside on very hot days unless they have access to cool, fresh water, shade and a place to even stay cool.
Some states right now are getting near 100 degrees or hotter.  In these kinds of climates, dogs need a way to cool off.  Most places have AC in this kind of heat, but be sure that your dogs are kept where it's cool.  Imagine if you were stuck outside in an area that gets 100 degrees with a fur coat on.  You'd be very hot within minutes.  That's how your dog feels.
There are some ways to help keep them cool, even in the kennel though.
Cooling Options for Dogs – A Cooling Kennel Mat?
I found a mat that you can use in the dogs kennel that keeps them cool.  It works by weight and the gel inside keeps your dogs cooler than the room temperature.  There's no water needed inside this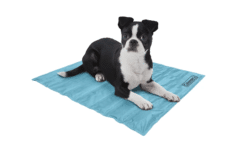 mat, you simply lay it out and the dog can stay cool by simply laying on it.
Now, if I lived in a very hot area, then I would fold this up and place it in my fridge or freezer for only 20 minutes to get it more cool.  The gel inside, while it stays cool naturally, in very hot areas, that might not be enough.  In Alaska, we rarely get to the 80 degree temperatures.  However, these last couple of days we did.  We reached a high of 80 degrees for 3 days in a row.  This might not seem like much, but in Alaska, homes don't have AC.  So, it's sweltering in our homes.
My dogs needed a cooling mat to lay on.  But, I didn't know they existed until today.  I will be purchasing one for next year, since our heat wave is over for the year.  August it rains all month and temperatures are typically back in the high 60's.  Next year, we'll see the same for at least a few days though in the summer, and these mats will help my poor dogs that were miserable in the heat.
For those that take their dogs for walks in this heat, there's also cooling vests.
Cooling Options for Dogs – The Cooling Vest.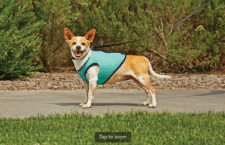 The cooling vest is also a must have if you're taking your dogs outside during heat waves.  This vest, once wet, will slowly keep your dog cool by keeping them slightly wet.  Not damp wet, they don't like that too much.  But, more like a misting of water on their fur.  It works the same way sweat does for humans.
When we sweat, the moisture on our skin will allow for the slightest breeze to help keep us cool, even on what seems like a no wind kind of day.  See, dogs sweat through their tongue, not their skin.  So, they can't cool off easily just by sweating.  Their tongues will salivate more, and become thicker to allow for cool air to get to their blood.  But on super hot days, this doesn't always work for them.  They are, after all, wearing fur coats.
The vest does need to be watered down in order for it to work.  So best to have some extra water on hand when they're wearing this, in case you need to re-wet it.  However, it definitely works, so even just having them wear this during a walk would help.
Please note – the concrete temperatures in hot weather are extremely hot!  If your dog isn't wearing booties, walk barefoot yourself on the concrete first.  If you can't handle it, they can't either.  Best to stick to grass in these types of weather conditions.
Final Words on Cooling Options for Dogs.
Summer in many places is looming around the corner, especially for us in Alaska.  But, because we may still see some hotter days, be sure to have a plan in mind for your dogs during these temperatures.  For my dogs especially, they're not made for hot weather.  Short, bulky bodies make for very hot dogs when it's even 75 degrees outside.
Watch your dogs during these hot days and see how they act during this.  Do they pant constantly?  Dig in the dirt in the backyard?  Attempt to get under your deck?  Telltale signs will let you know how your dogs feel when it's especially warm out.  I kept a close eye on mine, and made sure their water bowl was always fresh and cool.  I even put ice cubes in there when they seemed warmer than usual.  They even got ice cubes as treats, and that seemed to help cool them off as well.
During these temperatures, I didn't have them outside on their own.  They had access to being inside, but even inside, it was warm for them.  Misting them down helped, and having fresh water.  Whatever you do, don't ignore the signs that your dog is overheating.  Be sure to get them as cool as possible.
What other ways do you keep your dogs cool during hot days?  Any special items you use that helps?
Please follow and like us: