Today, I was scrolling through some new products for pets. What I came across was some new cat products, that frankly, every cat owner needs to get before they're gone. One of the products was a cat bed that attaches to the wall. I've written about cat trees that you can attach to your walls in the past. But this one is so cool! It's actually in the shape of a crescent moon!
Another new cat product that I saw was a litter box enclosure that looks like furniture. Now, I don't know about you, but any cat litter box enclosure that doesn't show the cat litter box is a winner! Nothing is more of a decorative eyesore than an ugly, plain looking cat litter box just sitting out. No matter where you try to hide that thing, it's ugly. You know what I mean, especially if you have that ugly beige-colored one that seems to be in every house!
Let's take a closer look at the new cat products, shall we?
Crescent Moon Wall Mounted Cat Bed.
Exclusively at Petco, I just love the shape of this cat bed! Who wouldn't stop to admire this on your wall? It looks like a cool piece of artwork, no matter what you have on your walls. And, imagine if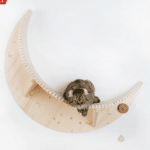 your friends come over and your cat just so happens to be perched up there? That would surely be a conversation starter!
It's made of spruce wood and it's curved perfectly for your cat to be comfortable. We all know that our cats love to climb. What do they like more than climbing? Staring down at the room of course! So, if you have a cat that loves scaling your book shelves, then this is for you! Maybe they like to jump up on your fridge? Get this instead. Be sure to hang it where your cat can get to it as well!
Did I mention it's on sale? No, well, it is! Click here to buy it today.
Cat Litter Box Enclosure that Conceals your Cat Litter Box!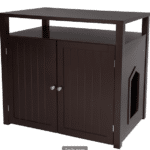 Like I mentioned above, who else hates those ugly beige boxes that get so dirty on top? It's not like the cat goes on top of the box! Well, maybe yours does. However, usually concealed in a closet or under a sink, those boxes are still an eyesore. Well, today, I'm here to share the new cat box enclosures that look like a piece of furniture. It's even large enough to conceal a self-cleaning cat box.
So what's so special about this piece of furniture? Glad you asked. Not only do you have double doors on the front, to easily access your cat box once opened. But, it also has a cat door on the side! You can use this as a console table, or simply an end table. Just be sure you leave the opening available for your cat to get into.
Coming in two colors, black or white, you can set it up to match your furniture anywhere! What I love about this the most? Well, besides the cat door on the side? The shelf! I love that it has a shelf for any accessories you might need. If you want to place your cats toys up there, simply grab a small basket! This will hide the toys, as well as keep them in one place for a clutter free option.
Click here for this offer!
Scoop Free, Top Entry Self Cleaning Litter Box.
The days of scooping your cats litter have been long gone, now. If you're still doing it the old-fashioned way, let me introduce you to the future! This self-cleaning cat litter box uses crystals for the litter. If you don't know already, crystals have 99% less dust than your typical cat litter. Remember the ugly beige, dirty looking cat box I mentioned above? Well, this isn't it!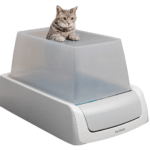 Crystals allow for your cat to still do their business, but with no dust. Well, very, very little dust. This litter box senses when your cat is done, and scoops their "stuff" into a tray. Depending on how often your cat goes to the bathroom, depends on how often you need to throw away the tray. Did I mention that this litter box actually tracks how often your cat goes? Wait, what? It tracks how often your cat goes to the bathroom! So, if you think they might have an illness, you can actually monitor it easily.
So, no more daily cleaning. It takes weeks to have to refill the crystals in this box! Wouldn't that make life so much easier for you? Click here for this one!
Last of the New Cat Products – Wall Mounted Wood Cat Shelves.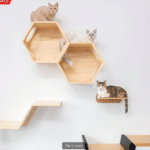 This goes along with the new Crescent Moon Wall Mounted Cat Bed, but it's a separate item on it's own. Does your cat currently like to jump up on your floating shelves around your home? Only to have one of them fall because they simply can't hold their weight? Well, no more. These cat shelves are rated to hold your kitty high above the action in your house!
Cats love nothing more than to look down upon their subjects and watch with disdainful eyes. Always plotting their next move, or next jump of course! Each of these shelves also has an opening for your cats to go from one to the next. Place them together or space them out. Your cat will love jumping from one to the next! For a more fun environment for your cat, place toys inside each honeycomb! Then, sit back and watch as your cat has the time of their life!
Click here for these awesome wall mounted shelves!  Did I mention they're on sale?
Final Words on New Cat Products!
New cat products always amaze me! I love the innovativeness of new cat products every time I see something cool. The new fun items aren't just for dogs anymore. Cats need to have a little fun too! So stop buying your everyday items that you're used to. Get in with the trendy new products as they emerge. I promise, your cat will love all the new things you're buying.
Besides, all cats just love to scale walls. I'm not talking about digging in with their claws, I'm talking about shelves made for them at home! Especially if you live in a small space and a cat tree just isn't going to work! I've lived in small spaces before, and I can honestly say, I would've had these cat shelves all over! Even as a fun design up and around any room, I would love to watch as they climb and perch high. I sure know I would have a heck of a time getting my cats down!
What new products have you seen lately! Share with us, so we can keep up with the trends!
Please follow and like us: