Product: Vet's Best Mosquito Repellent for Dogs and Cats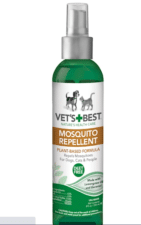 Price: Normally $12.99 but on sale right now for $4.00 at Petco.com
Rating: 5 out of 5 stars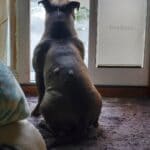 At the start of the Spring/Summer in Alaska, my dog Atlas was introduced to the terrible swarms of mosquitoes that we get up here.   Because of the wet conditions that occur after all the snow melts, Alaska is perfect breeding grounds for hordes of these tiny blood suckers.   Unlike other states, ours get very large in size, though.
In comparison, our mosquitoes can get to the about the size of a nickel from wing to feet.  This makes them very easy to spot in order to kill them if there's one or two that have managed to get inside.  But if you're outside in the woods, beware!  The size of these bugs can make it very difficult to function in any capacity since they tend to swarm their prey.
Since they grow so large, my dog, Atlas, was not only getting bites.  They were turning into large welts that were covering her back and her legs.  I recently wrote an article describing her experience and you can find it by clicking here.  Needless to say, I had to find something to protect her from these bugs and fast!
Where To Find The Good Stuff.
I was shopping at Petco in order to find the best bug repellent and a very nice young man helped bring me to the aisle and point out the stuff that he said he uses for his dogs. I picked up a bottle and saw that not only was this for mosquitoes, but it's also for fleas and ticks which is an added bonus if you're anywhere down south.   We've yet to get the fleas in Alaska, thank goodness, but there have been ticks, they're just few and far between.
Poking around Petco today, I saw that their Vet's Best is also on sale right now for only $4/bottle.   That's a really good price since when I purchased mine at the beginning of summer, it was the standard $12.99/bottle.   I also ordered another to have for next year today, I recommend you do the same.
What's In It?
The one that's featured on Petco is made with similar ingredients.  The one I have, is made with Peppermint Oil, Eugenol, Sodium Lauryl Sulfate and other ingredients like water and Sodium Benzoate.  When I spray my dogs, I can definitely smell the Peppermint and Eugenol.  It almost smells like a black licorice.
I spray very liberally all over them, and rub it in well until I get almost a foamy consistency all over their body.   I also rub it around their muzzle and eyes (careful to not get it in their eyes) as well as down their legs and over their belly.
After rubbing it into their fur, I can watch the mosquitoes hover over them, but not land on them, and that's when you know it works.   I've used this spray in the thickest brush and forest in Alaska and it's worked really well.   The only thing to watch for is when the mosquitoes start to land on them again and I have to spray them all again.   Usually once a day, especially when we're camping near woods.
My Overall Experience.
All in all, I actually really like this stuff.   As mentioned above, I bought another bottle already to have for next summer for my dogs since I know I'll need it and I can't beat a $4 price tag.   I know it's because it's the end of season coming up soon, so I'm sure that Petco just wants to clear their inventory for their winter line of products.
Regardless of whether you have cats or dogs, if they're going outside where mosquitoes are, or camping near the woods with you, I would make sure to have this on hand.   Get your bottle today by clicking here!
What do you use as repellent for your dogs or cats?   Comment below!
Please follow and like us: