Product: Wooden Dog Toy Box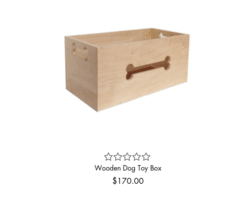 Price: $170 on Bitch New York
Rating: 5 out of 5 stars
If you have a dog, then you most likely have a ton of toys lying around the house like I do. My dog Atlas, has more toys than I know what to do with and if I didn't have a box of some sort, they'd be everywhere.
I like this box that I found on Bitch New York.   Although if you don't want to spend the $170 on this, a wine crate works as well, though it's not as pretty as the one featured here.
Dogs that have a lot of toys should have a toy box in all honesty.   Let's face it, I doubt you want their toys spread out across your living room, like children's toy's gone mad.   Kids toys don't get mangled like some dog toys do.   Atlas does a number on her toys.   She rips them apart, she tears out the stuffing, she takes them outside with her.   They start to look flat, dirty and lifeless.
When company comes over, I throw all her toys into her box and voila, my living room is clean for company.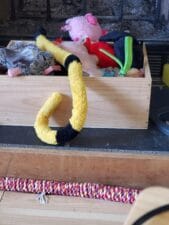 Not All Toy Boxes Are Expensive.
So, if you don't want to spend so much on a toy box, look at a local liquor store for a less expensive option.   I like the wooden toy box featured in this article a lot.   It's the only one that closely resembles the one I had bought.  For Atlas,  once her toys started getting out of hand, I needed options.
There are also less expensive options on Bitch New York if you're looking for just a standard toy box for your dogs. The key here is to have some way to confine all the toys that we tend to buy our dogs. That way, if you're having company, you can confine them to one corner of the room, versus spread out all over the place.
What are you waiting for? Buy one today and save 15% off one. Click here to see more options!
Please follow and like us: