I don't know what's worse, stepping on a Lego or stepping on cat litter? The Lego is a fast, sharp pain that leaves you jumping around holding your foot like you're on a Pogo stick. Whereas stepping on cat litter makes you feel like you just stepped on sand, indoors. Gross. To avoid this, what's the best cat litter mat out there?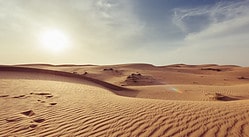 Sure, there are a ton to choose from. Seriously. Go to any pet store and you'll see. Microfiber, personalized, "No, this is the best one!" So, which is the best one? I've tried a lot to be honest. Over the years, nothing is seriously worse than stepping on that litter, especially in the dark. First, I know where it's been. Ew. Second, no one wants to step onto a sandy beach in their homes.
There are a few things that make each cat litter mat unique. How does it look? Does it actually capture the litter? Are your cats paws free of litter when they're done? Finally, how hard are they to maintain and clean?
How Does your Cat Litter Mat look?
Now, this might not be at the top of your list. But for me, I'm into home decor. I like things to match and actually look good. Otherwise, you have a mish mash of furniture in your house that looks like you stepped out of the black and white TV days. Um, did you mean to mix those colors?
So, when it comes to my cats box, I like the mat to match my current theme. With the one that I'm going to specifically talk about here comes in a couple of colors only. There are some other, more personalized ones out there, but honestly, they don't work as good. And, I'm here to talk about the good one. The color I chose was a dark gray. Why? My house has a ton of gray color schemes here and there. Plus, my walls are gray. So, it works really well.
It's not the prettiest color, but does it work?
Does it Capture the Litter?
In short, yes, yes it does. The reason for this specific one is that it has little holes throughout the mat. The point of these little rubber holes is it traps the litter inside them. Now, I know this, because I have to clean it, often. And, on the outskirts of this mat, litter doesn't exist.
So, it does its job. It grabs the litter from my cats paws and holds it in the holes. This is what I want. I don't want to step into the Sahara in my bathroom. If I wanted to visit the Sahara, I would go to the Sahara. Sun, warmth, desert. You know, the good stuff. Not step in my cats remnants. I'm good!
If you're using a cat litter mat that still allows for litter outside of this mat, it's not doing what it's supposed to be doing. Now, are my cats paws actually clean of litter? Maybe the litter is just stuck to their paws?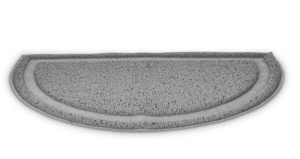 Are My Cats Paws Clean of Litter?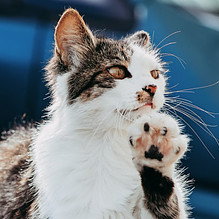 This is the test. When they're done doing their business, what's left on the underside of their paws? I know, it's gross, but hey, someone has to talk about it here! I mean, let's not litter with litter! Ha! Seriously though, my cats paws are clean when they're done.
I've checked. So, this cat litter mat is doing its job once again. They walk out of their box, the litter gets trapped in the little holes. Now, I'm not sitting there watching my cats wipe their paws. Goodness knows my cats do not care! They would love for my floor to be a great big litter box, I'm sure. But once again, I kind of care about my home decor. So, no litter floor for you, cats!
So, I know their paws are clean when they're done, because as always, when they're done doing their business they just love to jump on me. Great. Thanks. But alas, no cat litter is left where they've walked. Thank goodness!
How Hard is it to Clean?
To me, this is the most important part of any cat litter mat. How easy or hard is it to actually clean it? Some mats, hold the litter so well, that you would think the mat was attached to the litter or something. The good news? This one is easy to clean. Now, I'm kind of vacuum freak. Yes, I said it, freak. I vacuum all the dang time. My entire house in fact! Almost every day. But I have animals, so…
Normally in my vacuum regime, I vacuum even the hard wood floors. And the vinyl in the kitchen and bathroom. This includes the cat litter mat. Now, I want to point out something very important here – if you're using the crappy Dyson, like I do downstairs, it will vacuum this mat just fine.
However, if you're using the Kirby, like I also have, you're going to suck the mat right up. So, there's a fine line between the type of vacuum you have. Vacuum is lame? You're good. Vacuum away.
Vacuum will suck the hairs off your arm? Don't try it! Simply pick it up and shake it out. And, to save on the mess, shake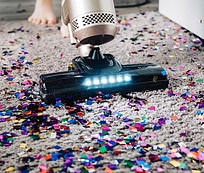 that bad boy right back into the box! Bam! No mess. You're welcome!
Final Words on the Best Cat Litter Mat.
I hope I've been able to help you avoid the Sahara desert in your home. I love that I don't have to walk on that sandy mess anymore after getting this particular mat. Besides, no more walking into my bathroom late at night and whispering, "Doh!" Don't want to wake the family, right?
Skip those others that claim they're better. I've had the carpet ones – don't work. Even tried the microfiber ones – waste of money. This time, I went budget conscious and spent a whopping $15 on this one. And, I'm very happy with my purchase. Now, I will admit, for my larger cats, the males in my life, I have 2 of these outside the box. Why? Male cats tend to be very long. I don't know what happened to them at puberty, but they decided to try for the lions I guess. One mat simply doesn't reach the span of their size. So, I have 2.
These cat litter mats last a long time, even after all the shaking, cleaning and vacuuming. So, I looked at it like a long term purchase. I was seriously tired of stepping on cat litter all over the floor.
Save yourself my headache, and get you some mats today. You can thank me later!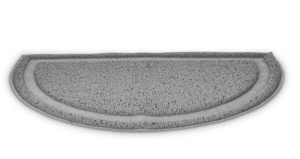 Please follow and like us: