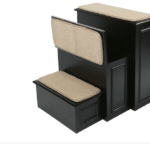 Product: Gen7Pets Deluxe Espresso Wood 3-Step Conversion Steps
Price: $169.95 on Petmate.com
Rating: 5 out of 5 stars
Gen7Pets Deluxe Espresso Wood Dog Steps – Product Overview:
I have two small dogs that are incapable of jumping up or down off my bed, and most of my readers out there most likely have the same issue in the event you, A: have a smaller dog that can't get on the bed, or, B: you have a bed period! As we all know, beds can be tall these days, so much so that even for shorter people, we have to have steps to get onto the bed ourselves. Unfortunately, this is the case for me sometimes.
A couple weeks back, my small dog wasn't able to get down off the bed to go outside, and she ended up having an accident at the end of my bed that rudely woke me up. I have a dog door so they can go in and out at their leisure, but as for getting on and off the bed, that's another matter all together.
Different Types Of Dog Steps.
As you might already know, there are few kinds of pet steps out there and not all of them are good. I've had some that are rather flimsy and don't look very attractive, or they simply don't do my pets justice based on their size. Meaning, if you have very large dogs that have long strides but might be older, some steps are too close together that your dog has a hard time even using them.
Most steps are designed with smaller dogs strides in mind, so the steps can be very close together and dogs aren't comfortable using them. I've had this happen with my older dog that had very long legs.
If you have an older dog that's having a hard time getting around, then here are some treatment options from home.
My Experience With The Gen7Pets Deluxe Espresso Wood Dog Steps.
After buying these steps, I have to say that they allow for my bigger dogs as well as smaller dogs as far as strides are concerned. Both small dogs and Atlas, my larger dog, can get up to the bed easily and let themselves out at night so that I don't have to.
These steps also convert from 3 step to 2 step very easily and I also like that they have built in storage for their toys and blankets as well. I've had steps in the past that are made with a weird material that not only looks gross, but doesn't support their weight as well as I'd like. I've had dogs that weigh over 50 lbs, and those flimsy steps always move when they attempt to step down from the bed.
These Gen7 steps don't do that, so it's nice that they're sturdy.
My Overall Rating With The Gen7Pets Deluxe Espresso Wood Dog Steps.
Overall, I really enjoy the look of these, the ability to make them 2 or 3 steps as well as the storage ability. Very rarely, do we find steps that can do this that don't cost more than these from Pet Mate. There's also a discount right now, 15% off for new customers, so I was able to get them for under $150. Considering I've bought the flimsy ones for $90 before at the pet store, I'm very happy with these!
I've provided some links for anyone that wants to check them out today.  First time shoppers also get 15% off.  That's a great deal!
I know you'll enjoy them just as much as I have, especially with older dogs as well. You don't want them trying to jump down from places that could potentially injure their joints and cause them pain.
Please follow and like us: