Recently, I've come across a lot of social media posts for dog clothing. The main component of these posts are inexpensive options for dog clothing. Many people this year are having financial hardships. Businesses have closed due to COVID. People have been laid off from work. It makes sense to find these inexpensive options for dog clothing in order to keep your dog safe.
Some posts I've seen are people making dog clothing. I've also posted about shopping at thrift stores in the past for clothing for your dog. Finally, some have just used a diagram to physically make their dogs clothing. But first, why do dogs need clothing?
Why Some Dogs Need Clothing.
For those of you that have read my posts, then you might already know the answer to this question. However, if this is the first you're reading, then yes, dogs need clothing. I live in Alaska, and it's downright cold up here. You can see from the picture I've posted to the right. Of my three dogs, two are short haired dogs. Short haired dogs need protection in the cold since they don't have the fur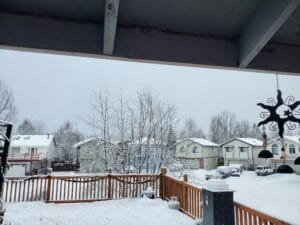 to keep them warm.
Think of it this way, if you're cold, they're cold. Stand outside in a very thin pair of pants and shirt. Barefoot. Wait for just a little while. Are you cold? Do you feel chill? Then your short haired dog is too. My Pocket Bully, Atlas, has a naked stomach. When she's outside too long without her sweaters or coats, her stomach will be very cold when she comes back in. Normally, from my children taking her out and playing with her. They forget, she needs her sweaters more often than not.
Now, if you live in a warm climate, this doesn't count for you. Instead, you want something to keep them cooler in the heat. Dogs overheat just like we do. I knew of a dog this past summer that had died from the heat up here. The owner left the dog in the vehicle and the dog passed, sadly. No, I'm not friends with this person. I simply heard of the tragedy.
Let's get back to those that need clothing. First inexpensive option – making the dog's clothing from your own.
Making The Dog's Clothing From Your Own.
Recently, I've seen a lot of people making dog clothing from their own. They simply take some piece of clothing that is long sleeved. They take the sleeve, make two small slits where their arms would be and voila, done!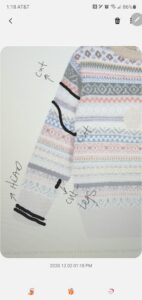 This method works if you have a very small dog. For those of us with bigger dogs, obviously, our dogs won't fit in our sleeves. But for the small ones, it's very clever.
Imagine the endless possibilities for the smaller dogs. Any old sweater that you don't wear anymore. Simply take that sleeve, cut it at the shoulder to remove it from the whole thing. Then, you lay it out flat. Take a pair of scissors, and cut two small half-circular slits at the edges. See the picture I've posted to the left. Then, simply cut it to length.
You can use sweaters for this idea, long sleeved shirts. Even thin shirts. While I cringe at the idea of ruining a sweater, maybe find one that's damaged already? I'm a firm believer in donating clothing if it's still good. A lot of people this time of year need clothing, especially the kids.
Speaking of, what about those options of finding clothing at thrift stores?
Thrift stores is where I buy a lot of Atlas' clothes. She's a very thick Pocket Bully and most dog clothing is too tight. Unless I buy an XL vest or sweater, but even then, it's tight across her shoulders. Plus, some of you might know that I absolutely hate Velcro! It just doesn't stay, nor work!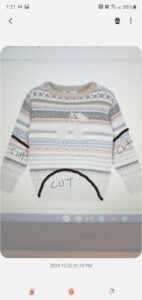 What I look for, when I'm shopping for Atlas are kids clothes. She fits a size 5T. Since the shoulders are made for kids shoulders, which are more wide than a typical dogs, they fit her perfect. I also look for vests with zippers. Not the chincy Velcro that so often comes on dogs clothing.
The last vest I bought Atlas always peels off her shoulders. The rest of the vest, just fine. But her shoulders? Nope. Just doesn't work. I always get so agitated too and end up ripping it off, telling my husband to remind me to sew buttons on the thing.
So, if you have a bigger dog, like a Lab, a Shepherd, a Poodle, any of these breeds, you can find human clothing.
Lab – standard size, most likely will fit a size 8/10 in shirts.
Shepherd – Males – probably also a size 8/10 or small size in ladies.
Poodles – depends on the size of your poodle, but probably close to the Lab size, 8/10 in kids.
If you have kids, take one of their shirts and try it on. That'll give you their size. For Atlas, it works really well and she's a very short dog, only 16″ to her withers. Human clothes just work well on her because of her shoulders.
Another inexpensive option for dogs clothing, make it yourself.
Using A Diagram To Make It From Scratch.

Okay, I'm going to be real honest here, I've never done this. Sure, I can be crafty. I'm sure if I sat down and really thought it out, I could make something for my dogs. But, A: I don't have a sewing machine, so I'd be sewing by hand. Not something I really want to do. B: I don't exactly have a lot of time to be sewing. It's probably because it'd be by hand.
I have thought about making Atlas a crown sweater though. I seem to have about 1,000 crown bags saved up over the years. Honestly, I think it'd be cute, and it'd be one of a kind.
For those of you that have the machine though and the time – what a great option! Material is very inexpensive. You can order it off Amazon, JoAnn's, other fabric places. Fabric is way less than buying anything from the store. Most dogs could probably get away with one single yard for their clothing. Small dogs, you could make several from a yard.
I've seen the diagrams online, so it's pretty easy to find them. If you knit or crochet, even better! Making their sweaters from yarn, wow.
There are so many options out there!
Why Inexpensive Options For Dog Clothing Are Needed.
This year has been a whammy of a year. I lost my 9-5 job back in February. It took me a long time to stop being angry over it. Honestly, to this day, I just don't miss it. I'm glad I'm home with the kids while they're in school online. They wouldn't focus if I was at work. Guaranteed.
Because of so many people out of work, we're all in the same boat. The broke boat. Come on, jump in! The water's fine. Kidding. Don't jump in if you don't have to. I'd rather be in the money boat!
Regardless of your financial situation, there are options. Inexpensive dog clothing options. Whether for yourself or a friend. If you prefer to buy them from a retailer, awesome. You know I post a lot of clothing options for dogs. Some are better than others and I've admitted that in the past articles.
However, I still shop at thrift stores for Atlas because honestly, they just fit her better. For the small dogs, I buy their clothing. I always rave about BNY and their clothing. Better quality. A little more expensive. But, we have a saying – you get what you pay for.
What have you done in the past for your dogs? Thrift store buys? Making it from scratch? From a piece of clothing? Let us all know what worked best for you!
Please follow and like us: