You might be wondering why my title has a question mark after it. I mean, why would I question big dog shirts? Well, because I've seen a lot of pet apparel sites popping up lately online. Out of all these new retailers, they show pictures of big dogs in clothing. However, when I go to the site to order a shirt, the sizes aren't for big dogs.
Online shopping can be deceiving. Everyone that's shopped online knows what I'm talking about. Wish, for example is very deceiving. You see a really cute outfit, you go to order this cute outfit. Months later, you get this outfit. Excited to try it on, and it's either you're a stuffed sausage or a limp noodle. And, it looks nothing like the picture did, even if you did order it 3 months prior.
There's almost no perfect fit when it comes to online shopping. This is no different for dogs.
Big Dog, Small Dog.
Big dogs are harder to shop for when it comes to clothing. Why? Um, because they're big! Small dogs have it easier. Almost every size small fits my dog, Buttons. Sure, it might be weird looking, or a little big, but it fits. Atlas on the other hand, well, she's bulky.
You can have a Frenchie that's slightly more bulky than an average Frenchie. Well, the clothes aren't going to fit the same as the picture. Especially for dogs that have a larger chest than others. Not all big dogs are created the same.
Look at a German Shepherd. First off, yes, they're a tall dog. But many of them are skinny through the chest. Just because a big dog shirt is ordered in a size XL does not mean it's going to fit your dog. Their girth has everything to do with the fit!
Girth Matters in Dog Clothing.
What do I mean by girth? Well, it's like someone with a larger chest. No, I'm not referring to boobs! Though, those do have an impact on how shirts fit, so we can run with that. What I mean though, is if your dog is more thick in the chest. I'm going to use my dog Atlas for example here. She is thick!
In order for me to buy her clothes, I have to order an XL. The unfortunate part of this? The clothes tend to be made for a tall dog. Atlas is not tall. Not at all. When I order her something, I have to look at the material of the big dog shirt. Is it stretchy? Will it fit over her bulky chest and shoulders? Will it drag on the ground because she's so short?
Just because a dog has girth, does not mean the XL will fit them. Especially if the clothing is from overseas. Forget it!
The Retailer Matters with Big Dog Shirts.
I recently ordered some dog diapers from Ali Express. These dog diapers were so cute! They're rainbow colored, with suspenders and everything. I just LOVE them. I ordered all sizes. An XL, a Large, a Medium and a Small. Let me tell you, the XL was no where near an XL size. I was so excited to open the package, that when I pulled this thing out, it fit my Chihuahua. A 5 lb Chihuahua. Not a 52 lb Pocket Bully.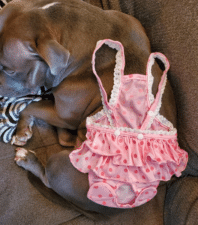 Holding it up to Atlas, nope.
I've also seen some new retailers popping up on Facebook lately. In the pictures, they show Bully Breeds in these clothes. But, when I went to the size chart, the sizing was misleading. These clothes would fit a French Bulldog, but not Atlas. I measured her, and her girth is just too much. Even if the shirt stretched, it would be like stuffing a sausage. Nope.
So, where do I go then?
Where To Shop?
I'm not going to list every single place I shop for big dog shirts. There would be too many to list. But one thing I will say, is Atlas fits kids clothes almost better than dog clothes. Kids clothes are built for shoulders. Now, I get that most dogs don't have huge shoulders. But Atlas does.
I've also always loved the clothes from Bitch New York. But you have to be careful on this site. Meaning, a lot of their clothing is designed for the smaller dogs. However, if you click on Big Dog when searching, it will pull only the larger sizes. I still choose items with stretch, regardless of the sizing chart. But at least you have the option with this site to find Big Dog Clothes!
Every once in a while I get lucky with Petco as well. I try to shop the clearance section with them because they move so much clothing. They almost always have great deals with dog shirts. Especially when I shop at the end of a season. And, once again, I look for items with stretch. This is important to anyone with a bulky dog!
Final Words on Big Dog Shirts.
I really hope that this has kind of helped you dog owners out there struggling to find big dog shirts. I didn't make a list. Or tell you where to go. This is simply a helpful guide on what I look for when I shop for my Atlas. Stretch, made in the USA, look at the sizing charts. And, finally, maybe kids clothes is the way to go?
Discount clothing stores are a great option for Bully Breeds. The long sleeves don't usually work so well, so some adjusting is required. I've simply rolled the sleeves up on Atlas in the past. It worked well for her. I eventually cut the sleeves and hemmed them to fit better, eventually.
I've been pretty lucky with the clothes I've ordered. For small dogs, they're easy. Big dogs, not so much. I know you won't be disappointed with the clothes from Bitch New York. So, if you don't want to try kids clothes, BNY has quality stuff. Petco as well. Just be sure to look for cotton or other stretch material.
Where do you shop for big dog shirts? What retailer have you had the best luck with? Share with us other big dog owners so we know where to go!
Please follow and like us: