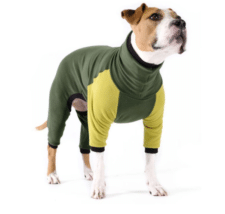 Product – Dog Pajamas
Price: Varies by websites, usually $15 and up
Rating: Varies by website and quality of material
Bitch New York Dog Pajamas Rating: 5 out of 5 stars
Dog Pajamas.
Dog pajamas have been something that's been around for a few years now. While at first, I wondered to myself, why dog pajamas? I, now, can see the use of them after having bought a pair. In the states, it's pretty cold after getting hit with a winter storm that many weren't expecting.
Endless videos and articles showing dogs getting too cold while going outside. Which, just like us, when the temperatures drop to a certain level, dogs get cold like we do. We can't expect that short furred dogs are warm in 6 degree weather. It's like a human walking outside with thin pants and a shirt on. Remember to leave the shoes inside on top of that. If you don't get cold, than your dog should be fine.
However, if you get cold, they get cold. Not all breeds of course. Huskies and Malamutes are accustomed to cold weather because of their coats. They have short, down-like, fur to keep them warm in sub-zero temperatures. For those short haired dogs though, not so much.
So, when it's cold outside, imagine your dog being in PJ's to stay a little more warm. They're not meant to be worn outside for long periods of time. But in the morning when your dog has to do their business, then the PJ's will help keep the cold at bay.
If you plan on taking your dog for a longer walk, then I would recommend a coat and booties, of course.
Some places, the houses were also cold. I recall seeing a house in Texas where the fish tank froze over. If that person had a dog, than hopefully the dog was kept warm. Imagine though, having a set of dog pajamas to keep your furry friend warm with you. Cuddled up under some blankets and staying safe.
These are just a couple of reasons to have a set of dog pajamas for your dogs. Now, I would not recommend dog pajamas in the heat of the summer. So, for those that might be reading this in Texas, summer months are too hot for dog pajamas. But in the winter months, when the temperatures can drop below 50 degrees, than the pajamas might come in handy. Especially if your dog is prone to getting cold.
I mentioned at the top of this article that Bitch New York has some quality dog pajamas. They have a nice selection as well, for both males and females. Small to large dogs. Some of my favorites are the fleece pajamas, but that's because I live in Alaska. We get cold up here every winter, no matter what the weather looks like elsewhere. You're guaranteed to get snow and cold once October rolls around.
The Pink Silly Monkey Fleece Dog Pajamas are one of my favorites. At only $33, they are quality material that stretches easily over my dog. I have the XL version for Atlas and she loves them when she's feeling cold. She'll even go so far as to grab them from her clothing tote and drag them to me.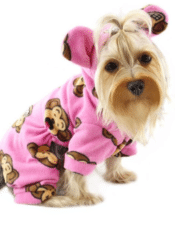 Teddy Bear Love Flannel Dog Pajamas in pink are also another favorite. When it's around 20 degrees outside, and chilly inside, these are my go to. I save the fleece for when the temperatures drop to below 10 degrees. These are also $33 from Bitch New York.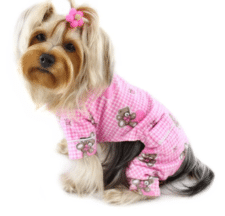 For the Males out there, I love Ultra Soft Minky Silly Sharks Dog Pajamas. At $35, these are perfect for a short haired male that gets chilly, especially now.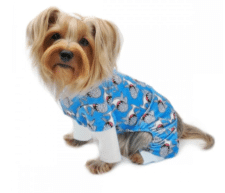 Some even come with hoods for that extra bit of cute! My dogs don't usually like their hoods up though. But for those dogs that like them, than the Lime Silly Monkey Fleece Dog Pajamas are for you! At only $33, you can see how cute these are! I just love the ears!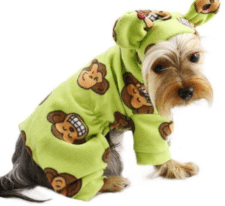 The Selection Is Endless.
Many pet retailers have a lot of pajamas to choose from now. While these weren't very popular a few years back, now they're everywhere. You can even buy human pajamas at some places to match your dog. I have to admit, I did this. I am that dog lover. Mainly for holiday pictures though, I swear!
So even if you shop at Petco or Etsy, you can find many pajamas that suit your dogs needs. Remember, it's not just about the cuteness, it's about warmth as well. So, even if the cold spell is temporary where you live, you don't know what else Earth has in store for us.
It's better to be prepared than not.
Bitch New York has a 15% off coupon for first time shoppers. If you've never been to their site, than you'll love the endless supply of dog clothing they have. The reason I love them so much, is the quality. I've mentioned this before in my articles. Quality over quantity any day.
So, what are you waiting for?  Shop today and save 15% off your first order. Don't forget to post pictures of your cute furry friend once you have a set for them! We'd love to see which ones you went for!
Please follow and like us: