Product: Pendleton Red Ombre Plaid Bone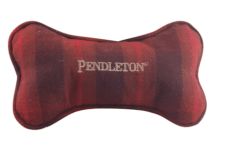 Price: $17.00 at Petco.com
Rating: 5 out of 5 stars for Atlas
[Affiliate Disclosure: This post may contain affiliate links which means I may earn a small commission if you purchase anything through one of the links. However, this will not affect what you pay!]
Pendleton Red Ombre Plaid Bone – Plush
Christmas has come and gone and I wrote a few articles on the best pet gifts from 2020. Last minute gifts. Dog bones. Fluffy toys, etc. So which gifts did my dogs actually like out of all of them?
The best pet gifts from 2020 were the fluffy gifts with squeakers in them. Atlas just loved the Pendleton Red Ombre Plaid Bone. My two Chihuahua's might say differently, of course. To them, only the treats were worth their time. Atlas, however, thought much differently. She was all about the fluffy squeakers.
In her stocking, I had balls, bones and squeakers. Sure, she ran after the balls as usual. But as soon as that fluffy squeaker came out, she dropped all the nonsense and ran for that one. Out of all of them, there was a red colored one she favored. In the shape of a bone, this squeaker was very fluffy.
I think she also liked that it was small enough she could easily fit most of it in her mouth. Atlas loves to find the squeaker and kill it. Immediately. So the fast that this one was small, she really liked.
I do think that next year, I'll be buying her one similar to this again. Atlas was very happy on Christmas Day when she got to play with all her toys. Hopefully you were able to get something special for your dogs as well.
If not this year, there's always next year as well. If your dog is more of a bone lover, then check out this never ending bone here! The Elk bone seems to last forever, and Atlas has had this thing for almost a year now.
Bones?
As for other raw hides, be sure to stay away from them if they're not natural. The ones that are overly processed can get gummed up in their intestines, and cause blockages.
I've touched base on the bones for dogs quite a bit. Look for the natural ones, as I mentioned. Also, the esophagus of some animals are a good trade as well. The never ending bone, the Elk Antler seems to be Atlas' favorite. Once she chews through this thing, I'll get another.
I simply stay away from the processed raw hides. The ones that are unnaturally white. Typically, once a dog starts getting into these, they like to swallow entire chunks. Unfortunately, their stomachs can't digest this material, so it can just sit in their intestines. This can pose problems when they can't poop. Then of course, there's the visit to the vet. Hopefully to not hear that they need surgery.
Other Toys She Liked.
Atlas loves almost all toys. The balls were okay for her. Normally, she loves a good tennis ball. But if they don't have a squeaker in them, forget it! She paid no mind to the rope toys either. Though these aren't good for dogs. If you decide to throw a rope toy in the stocking, then you have to make sure they don't ingest the rope. Terrible damage to their intestines with these,
They often come with the generic stockings you can get for dogs. Sold usually at WalMart and Petco. This year, I bought one that was full of toys. Atlas doesn't care much for the ropes. She likes the plastic ones she can chew up. As well as the squeakers. So, the ropes got tossed as usual. The plush won the day for her.
Hopefully you were able to find something your dog loved this Christmas. Of course, any day is a good day for another toy. You can purchase the Pendleton one here!
Please follow and like us: